With Valentine's Day falling on a Monday this year, this weekend is probably the prime spot to get it on with your significant other. That means you're going to need a good, sexy, and easy cocktail locked and loaded. One of the best cocktails for that vibe is the sidecar variation — Between The Sheets.
This cocktail goes back to Paris in the 1920s, when Harry's Bar was helping invent modern and classic cocktail culture. It's a mix of cognac and light rum with plenty of citruses to help it go down very easily. It's light, refreshing, and incredibly sultry.
Between The Sheets is also very easy to make. We're talking about a standard shaker with ingredients you'll be able to source at any liquor store. There are no tricks, no bespoke spirits, and no five-minute shakes. You can make these in 30 seconds if your cocktail shaking game is tight.
Between The Sheets
Ingredients:
(Double ingredients to make two at a time in one shaker)
1 oz. cognac
1 oz. light rum
1 oz. triple sec
0.25 oz. fresh lemon juice
Ice
Orange peel
As I mentioned above, these are all standard ingredients that you'll be able to find pretty much anywhere liquor is sold. I'm using Hennessy, Diplomatico Planas, and Le Favori Triple Sec. I'd definitely push towards the nicer end of the cognacs with VS (very special) or better. I'd also pick a light rum that's been aged and turned back into a white rum. Generally, aged rums like Diplomatico Planas are aged in barrels for years before the color is filtered out, which leaves smooth edges and deep aged flavor in the rum without the dark hues.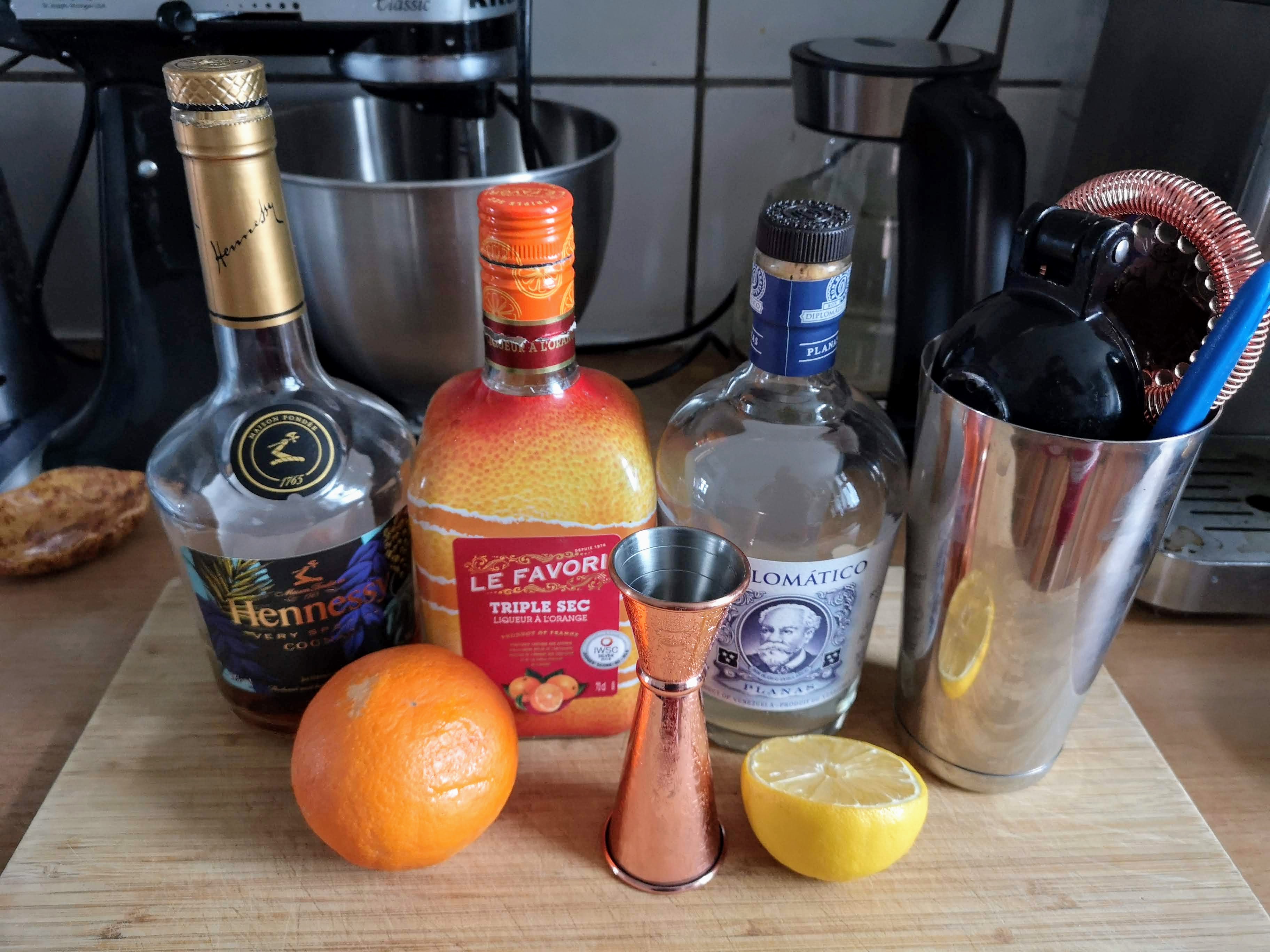 What You'll Need:
Coupe (pre-chilled)
Cocktail shaker
Cocktail strainer
Pairing knife
Jigger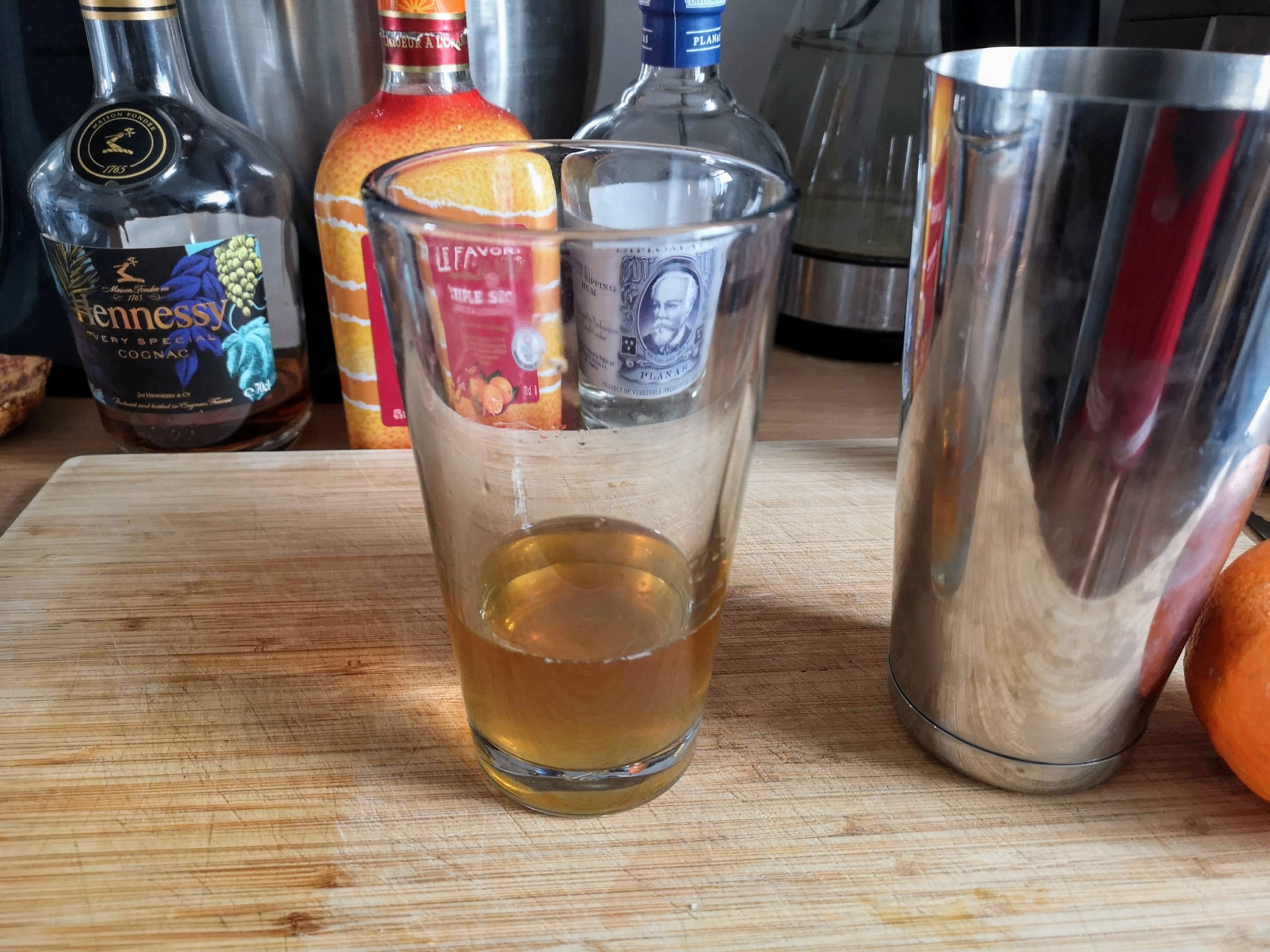 Method:
Pre-chill the glass in the freezer.
Add the cognac, rum, triple sec, and lemon to a shaker. Fill about 1/2 way with ice. Shake vigorously until well chilled (15 to 20 seconds).
Strain the cocktail into the pre-chilled glass.
Slice a thin peel from the orange and express the oils over the cocktail and rub the peel around the rim and stem of the glass.
Discard peel and serve.
Bottom Line: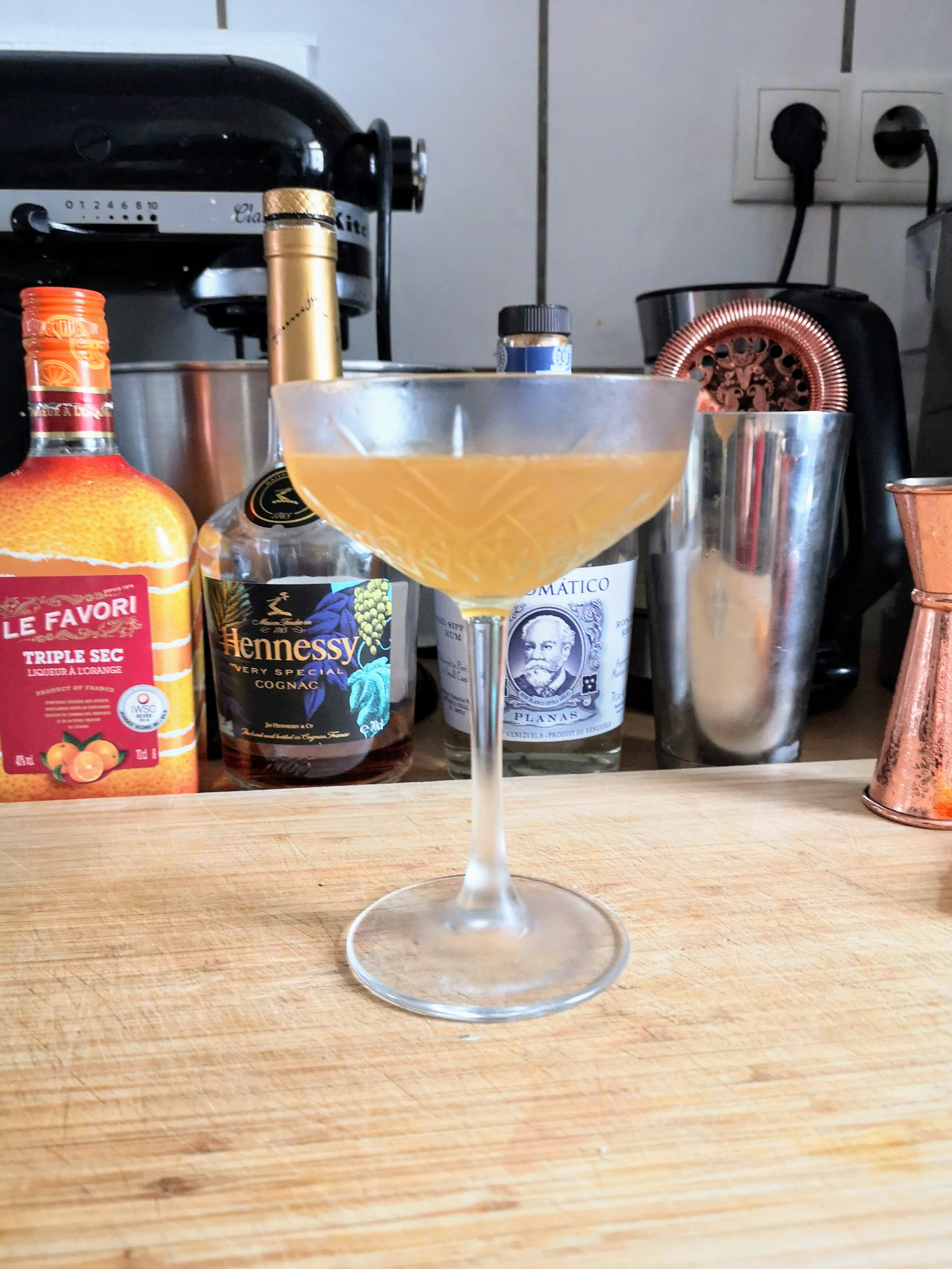 This is super refreshing and light. The citrus really shines through with big orange notes driving the palate with the rum and cognac providing a light boozy base with a little bit of woody spice, orchard fruit, and sweetness. The lemon provides a nice and acidic counterpoint to the whole affair and really helps this cocktail shine.
Perhaps most importantly, this is super easy to make. It takes less than a minute to shake one of these up and serve it (if you're rushing). That means you can easily make more as the night winds on without much effort. Save that energy for romance.