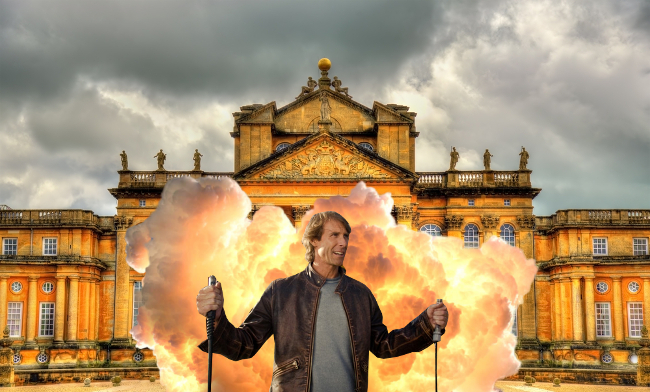 Michael Bay has made it perfectly clear that Transformers: The Last Knight, the fifth installment of his money-printing action franchise, will be his final turn in directing this tale of humans and robots. You know, unless Paramount gives him even more money, in which case he might keep rolling Skids and Mudflap out to the dismay of everyone. But until he changes his mind, there's no reason to believe that he won't be pulling out every last stop in making The Last Knight not only the most ridiculous action movie of the franchise, but also of his career.
In addition to a lovable dog and an adorable robot that may or may not be a blatant rip-off of Wall-E and BB-8, Bay is including such classic characters as King Arthur and Merlin in The Last Knight, and Winston Churchill will be one of his heroes as well. That's because Transformers 5 will feature robots turning into all sorts of machines throughout history, because no era is too big for a classic Bay explosion. However, it's the Churchill aspect that suddenly has Bay in hot water, and we're not talking about his Olympic-sized Jacuzzi that is powered by F-16 engines.
Last Thursday, British tabloid The Sun published the cleverly-titled exclusive: "Winston Churcheil: War Veterans Fury As Filmmakers Stage Nazi Invasion At Sir Winston Churchill's Home." According to the publication, "WWII survivors were appalled" that Churchill's birthplace, Blenheim Palace, was decorated with massive swastika flags as part of The Last Knight's production last Wednesday. In addition to the flags, Bay reportedly included Nazi vehicles and storm troopers in the scenes, and all of it was packed up before visitors returned the following day.
Interestingly, what The Sun's article was missing was actual outrage from actual WWII veterans. Instead, this is the extent of the anger:
Tony Hayes, of Veteran's Association UK, said those left who fought in World War Two "will be appalled by this".

Ex-commander of British forces in Afghanistan, Colonel Richard Kemp, said: "I know its a film, but it's symbolically disrespectful to Churchill. He will be turning in his grave."
Nevertheless, word got back to Bay that people are angry, and he cleared everything up by explaining that while there are indeed Nazi flags hanging from the roof of Churchill's birthplace in this film, the man himself also plays a role in taking down the bad guys and their tacky tapestries. As Bay told BBC Oxford:
… People were not fortunate enough to read the script. And they don't know that Churchill, in this movie, is a big hero. And Churchill would be smiling about last night.
The best part about that quote is how proud Bay looks of making Churchill a hero in a movie about robots invading Earth. But he's justified in his pride, because Churchill's grandson, Nicholas Soames, has Bay's back. On Monday, the Conservative MP for Mid Sussex told The Guardian that The Sun's report of Transformers outrage is "absolutely the most dismal, idiotic story I've ever read." Put that pull-quote on the poster!
"They do as all newspapers do," said Soames of the initial story in the Sun, which quoted second world war veterans voicing their distaste. "They go until they can find some wretched veteran who is prepared to say, 'Winston would be turning into his grave.' They've no idea what my grandfather would have thought!"

Soames rejected their scepticism, saying: "It's preposterous. Why can't they make a film at Blenheim 75 years after [the war ended]? It's absurd. That's all I have to say; it's pathetic."
There you have it – Winston Churchill's grandson has defended director Michael Bay from a British tabloid's manufactured WWII veteran outrage over Nazi flags being used in a movie based on toys. Good luck topping that nonsense, every entertainment news story for the rest of 2016.