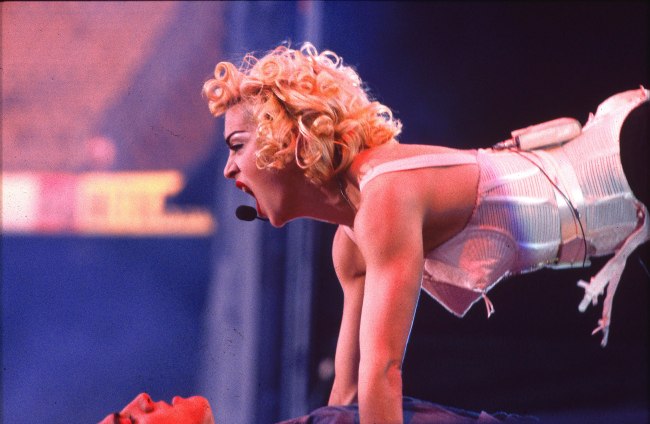 Madonna is great. It's something that rarely gets said anymore, and maybe that "is" should be a "was," but it's true. Anyone who's given the world "Holiday," "Borderline," "Like a Virgin," "Open Your Heart," "Like a Prayer," and "Ray of Light," AND starred in League of Their Own and Desperately Seeking Susan isn't a joke; they're an icon, and Madonna is arguably the most iconic female pop star of all-time. But because of the put-upon accent, and the string of subpar albums and even worse movies, and whatever the heck was going on here, she's dismissed as a joke who tries to fit in with the kids by acting younger than she actually is. That's nonsense because Madonna wrote the book on how to be a pop star. The chapter on acting provocative is particularly page-turning, and no one was more titillating than Madonna, whose new album, Rebel Heart, is out today. Here are a few of her most memorable erotic moments:
1. Like a Virgin?
It's tame by today's standards, but a decade before Madonna said "f*ck" 14 times on Late Show with David Letterman, resulting in the most censored episode in late night show history, she was withering around in a wedding dress in front of millions for her cooing performance of "Like a Virgin" at the 1984 MTV Video Music Awards. It's a seminal moment in MTV history, right up there with the first time they played a Baha Men music video, and it remains far more alluring than her same-sex kiss with Britney Spears at the 2003 VMAs.
2. Sex
Sex: the perfect coffee table book for people who like to bone on coffee tables. The photo-heavy hardback is classy pornography, with Madonna and her famous friends, including Isabella Rossellini, Naomi Campbell, and gay porn star Joey Stefano, acting out artistic BDSM fantasies. It was a sexual teetotaler's nightmare and received harsh reviews, but the book sold 150,000 copies on its first day of release alone, and sale figures now exceed 1.5 million.
3. Madonna: Truth or Dare
Filmed in 1990 before and during her Blond Ambition World Tour, Madonna: Truth or Dare is a documentary that shows the Material Girl working on her choreography; hanging out with Al Pacino, Mandy Patinkin, and then-boyfriend Warren Beatty; recovering from health issues; and most memorably, performing fellatio on a bottle. It's a much better movie than Swept Away.
4. Masturbating Madonna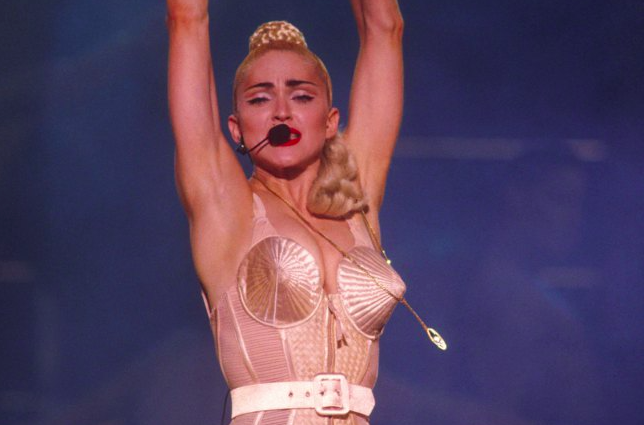 On that same tour, which Rolling Stone called the greatest in music history, Madonna simulated masturbation while singing "Like a Virgin" with two hermaphrodites, as one does. It nearly got her arrested, as police in Toronto informed her management that if she went through with the self-diddling, she'd be arrested for public indecency. She went ahead with it, though, and the police did nothing. How come? Because her tour manager told them, "Cancel the show, and you'll have to tell 30,000 people why." The crowd would have rioted, which in Canada means they would have littered. THOSE MONSTERS.
5. Body of Evidence
Body of Evidence, her 1993 erotic thriller (the most '90s of film genres), co-starring Willem Dafoe as her lawyer who inevitably falls in love with her, was released with an R-rating. But the original cut earned it an NC-17, due to a "scene during which Madonna masturbates and makes love with Dafoe on the hood of a car." The hot wax and champagne seduction was left untouched, though.