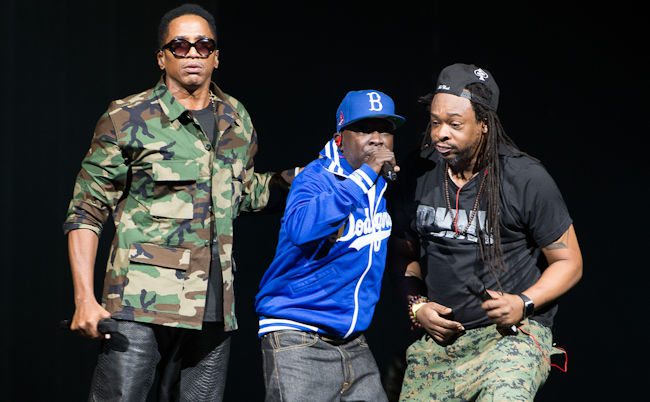 UPDATE: Wes Jackson has clarified that it was Muhammed Islam of The Zulu Nation, former head of security for Tribe, on his radio show, and not Ali Shaheed Muhammed as has been reported. Tribe was not working on a new album, and we apologize for this error.
Phife Dawg's memorial service was live-streamed earlier today, and to add to the mourning of the well known and influential rapper's passing, we learned that A Tribe Called Quest had been readying a new album. OkayPlayer reports that Ali Shaheed Muhammad revealed the news during Wes Jackson's York College radio show. This would've been A Tribe Called Quest's first album since 1998's The Love Movement.
The idea of another album from the iconic rap group has been floating around for nearly 20 years. At first we thought we might get one when the group reunited for a tour back in 2010, which even featured a headlining slot at Rock The Bells. Then came some one off performances as openers for Kanye's Yeezus tour back in 2013. And of course there was that memorable reunion, where A Tribe Called Quest performed on The Tonight Show Starring Jimmy Fallon, to celebrate the 25th anniversary of their debut album, People's Instinctive Travels and the Paths of Rhythm.
Although it's unknown if any of that material will ever be released, it's nice to know that the group was working on music together and had hashed out their differences. What would a Tribe album would even sound like in 2016? Maybe someday soon, we'll have an idea.
(Via OkayPlayer)