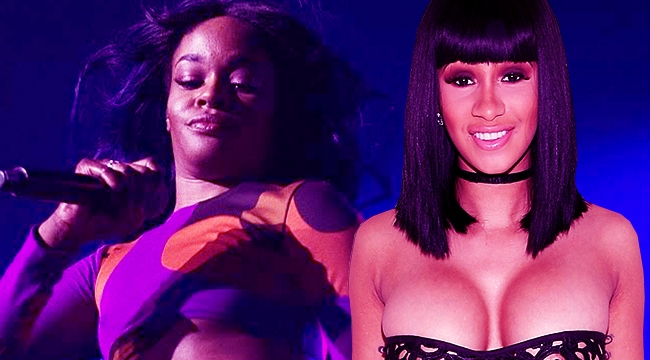 One of the most frustrating things about Azealia Banks is how often you can break down her mountains of venomous, irrational vitriol and find hiding at the center a tiny, glittering nugget of truth. It's almost impossible to defend Azealia Banks when she attacks her primary supporters, sprays her acerbic wit at any convenient target, and does some, uh, interesting things with chickens.
But every so often, she'll make a point that, if you step back and take an objective squint, makes way too much sense, making you wish that literally anyone else had said it, so it could be properly contextualized and discussed without becoming a referendum on Azealia herself and how she probably needs some sort of counseling to level out a bit.
That's to say nothing of the draconian double standard applied to her follies; she has yet to engage in horrific acts of violence against another human being, yet has been "canceled" at this point more times than most of us are willing to count. Meanwhile, her male counterparts are given chance after chance after chance, without ever facing any real consequences for their actions.
The point is, it'd be nice to be able to examine Azealia's statements without Azealia, but then we probably wouldn't have those statements to examine. Only a proud misfit like her would even think to question certain aspects of the music industry; she does, after all, have a unique "advantage" of being a triple minority within the business as a queer, Black woman. It might be most incumbent on her as one to call out the discrepancies when she sees them; it's on us as music fans, critics, and consumers to interrogate her qualms with a critical eye.
When Azealia Banks went on a social media rampage over the last few days, accusing Cardi B of using ghostwriters for her No. 1 hit "Bodak Yellow" and even attributing the single's success to colorism in the industry, it would have been easy just to write it off as sour grapes. To be fair to Cardi, Banks could very well just be incredibly salty that her own hit "212" never even entered the US charts and only certified at 250,000 copies shipped/sold as her label deal disintegrated amid her roiling storm of self-created controversy, while "Bodak Yellow" climbed the chart over three weeks to overtake pop mainstay Taylor Swift, earning adulation and congrats from any number of Cardi's peers, including Nicki Minaj. She also became the first solo female rapper to top the Billboard Hot 100, and only the sixth female rapper to do so overall.
However, just like she was at least partially right about Iggy Azalea being afforded a bit more leeway due to her, ahem, "unique" looks for a rapper (okay, fine — because she's a white girl, which some people still think is a novelty in rap, despite tons of evidence to the contrary), she may just have a point about Cardi B similarly receiving some privilege due to the fact that she's lighter skinned than many of her predecessors. So, let's look at some historical examples to test her claim.
For instance, one of my personal favorite female rappers, Foxy Brown, peaked at No. 7 with "I'll Be" featuring Jay-Z. While Missy Elliott and Lil Kim did reach No. 1 for their collaboration with Christina Aguilera on the 2001 remake of "Lady Marmalade," neither of the two rappers featured on that song ever came anywhere near as close with their solo material. Missy only ever reached No. 3 with her own song, "Lose Control," which also featured Fat Man Scoop and Ciara. Lil Kim maxed out at No. 2 with "Magic Stick," which required the assistance of 50 Cent at the height of his musical popularity.
There absolutely is a pattern there; Missy, Kim, and Foxy are all widely considered to be the most popular female rappers of the '90s, but none has managed to take a single — no matter how popular — to the top of the Hot 100, and all three have detailed their struggles to be accepted past industry standards of beauty that run decidedly fair-skinned, thin, and blonde. We're going with the hottest rappers from the '90s because the decade immediately after rarely saw new female rappers chart at all.
Missy's inspiring perseverance in the face of label disapproval is well-documented; she invented the inflatable plastic suit from her "Supa Dupa Fly" video as a direct response to being considered "too fat" to be marketable to the mainstream.
Meanwhile, it seems every time we see Lil Kim, she has a completely different face. Her own ongoing battle with her self-image has led her to go under the knife so many times, she's nearly unrecognizable from the woman who first smashed her way onto the scene with the bold declaration that, "N*ggas better grab a seat / Grab on your d*ck as this b*tch gets deep."
And Foxy? Who knows what happened there. She hasn't had a charting single out in nearly a decade, and mostly makes public appearances when '90s nostalgia is called for. No tours, no albums, no deal… She may as well have just quit.
And certainly, Cardi's contemporaries, like Rapsody, Dej Loaf, Dreezy, Noname, and yes, Azealia herself, have been either overlooked or underrated for at least as long as she's been making music. There is absolutely a common denominator when it comes to their respective skin tones.
However, where Azealia's argument breaks down is that the last time a woman rapper topped the Billboard charts 19 years ago, it was brown-skinned Lauryn Hill, with a look that was decidedly toned-down in comparison to Cardi's, including knee-length jean skirts and natural, dreadlocked hair. Even Nicki Minaj, whom Azealia specifically referenced in her rant, has charted no higher than No. 2 (with "Anaconda"), and she has more in common melanin-wise with Cardi than with Banks or Hill. If it was just light skin privilege (which, yes, does exist), it certainly did Nick — a long-established artist with multiple hit singles — no favors.
It would appear that the real problem in hip-hop remains that women in general are not taken as seriously as their male counterparts. Without accounting for audience taste (and newly persistent rumors of payola), hip-hop audiences and execs alike have, for whatever reason, just not taken to women as readily as men. Labels won't clear the same budgets, and perusing the comments sections of female rappers' singles online will always result in at least a few misogynist posts claiming that women just aren't as interesting to the commenter in general.
And that's the real shame. In overlooking female rappers, rap fans not only do a disservice to an entire subset of people working in the genre, they also miss out on stellar projects like Rapsody's Laila's Wisdom LP, Dej Loaf's All Jokes Aside, and Dreezy's No Hard Feelings. Even Azealia's musical output has been intelligent, creative, and enjoyable, if she herself hasn't always come off the same way.
So was Cardi B's lighter skin a factor in her success? It can't be completely discounted as one reason, but given only two women have ever been as successful as her and Lauryn Hill, unfortunately, the sample size is just too small and varied to make that kind of determination — and that's on the industry to self-correct. Yes, Cardi B is slightly closer to mainstream America's attractive ideal than many of her peers, but she was also a popular, funny, charismatic internet personality before that.
There were clearly a lot of people invested in seeing her win, each for their own reasons, and besides, nothing about her success precludes any of the other named MC's from lucking into a runaway hit themselves. It's like catching lightning in a bottle, sometimes you're just in the right place at the right time and the wind blows the right way.
If Azealia's latest rant really is just another instance of her grasping at straws to explain her own failures, she needn't look any further than the nearest mirror. The older generation has a saying: "God don't like ugly." It doesn't matter what color your skin is, because beauty is only skin deep.