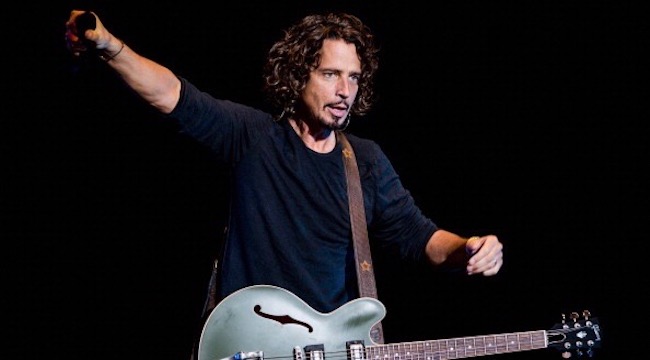 The music-loving world was rocked to its core this morning by the news of the death of Chris Cornell. At first reporting, details about the circumstance behind this tragic event were scant, but now the Associated Press has confirmed, that according to the medical examiner, Cornell died by hanging himself in his hotel room.
Cornell was staying at the MGM Grand Hotel in Detroit. He was in town performing a show with his band Soundgarden at the Fox Theatre. After the show, Cornell went back to his hotel. At a certain point, the singer's wife called a family friend and asked them to check in on her husband. According to Woody, the friend forced open a hotel room door and apparently found Cornell laying on the bathroom floor. Police would not confirm the victim's identity to the New York Times, but said that a white man with the same birthday as Cornell was found in the room with a band around his neck.
The Wayne County Medical Examiner's office has completed their examination and ruled Cornell's death a suicide.
Cornell was only 52 years old at the time of his death. His loss deals a tremendous blow to the rock community, in which he is considered to be one of the greatest vocalists of all-time.