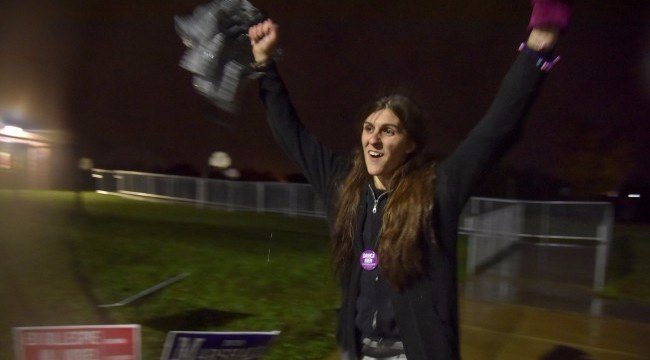 Danica Roem made history yesterday, November 7, by becoming the first openly trans person to be elected to a seat in the Virginia state legislature; unfortunately, there's no way to confirm that she is also the first thrash metal singer to hold a seat in the House of Delegates, but it's a fun tidbit.
The recent election day turned out to be a bonanza for the Democratic Party, as Democratic candidates handily took gubernatorial elections in New Jersey and Virginia, but by far the most inspiring and somewhat ironic story of the day was Roem's win over Bob Marshall, who authored one of the controversial "bathroom bills" that would have blocked trans high school students from using the restrooms that suited their gender identity.
Roem's thrash metal band is called Cab Ride Home, and they have an album out on Bandcamp called Crash The Gate from earlier this year — and it actually bangs. The 33-year-old Roem is the band's frontwoman and lead vocalist and defeated her opponent by over nine percent of votes — that's over 2,000 votes — and has real plans to effect change in as many aspects of the position as possible, including transportation, healthcare, and education, not just civil rights.
Check out Cab Ride Home's Crash The Gate below.
[protected-iframe id="8e6eb9b3dd7430e8fc02e1d3abe88aef-60970621-76566046″ info="https://bandcamp.com/EmbeddedPlayer/album=4259748975/size=large/bgcol=ffffff/linkcol=de270f/tracklist=false/artwork=small/transparent=true/" ]