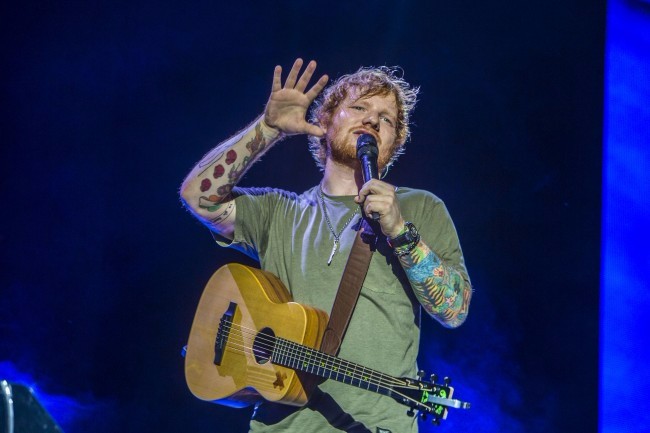 With the news of this most recent lawsuit directed at an A-list pop star, it almost begs the question: are you even famous if you haven't been sued? It seems that contemporary musicians being targets for charges of plagiarism is a narrative as commonplace as a Britney Spears comeback or a Kim Kardashian nude. The latest celeb to fall prey to this deja vu litigation is the world's favorite Grammy Award-winning redhead, Ed Sheeran.
Yup, the 25-year-old English singer-songwriter is currently the target of the co-writer's family of Marvin Gaye's iconic boudoir track, "Let's Get It On." The co-writer's relatives are pursuing legal action against Sheeran with the claim that his chart topping tune, "Thinking Out Loud" is too reminiscent of the 1973 hit.
The co-writer of the song himself, Ed Townsend, passed away in 2003, but the family and their lawyers, I suppose, are just now ruffled by the similarities heard on Sheeran's song that came out two years ago. The court papers claim, "the Defendants copied the heart of 'Let's' and repeated it continuously throughout 'Thinking,'" adding that, "the melodic, harmonic, and rhythmic compositions of 'Thinking' are substantially and/or strikingly similar to the drum composition of 'Let's.'"
The Townsend clan is pushing for the case to go to trial and be determined by a jury, which will surely happen if both parties can't come to an amicable agreement.
However, unfortunately, this isn't the only legal action presently aimed at the ginger powerhouse. The writers for the 2010 X-Factor winner, Matt Cardle pursued a 20 million dollar suit against Sheeran citing "note-for-note" parallels between his song "Photograph" and "Amazing."
Ironically, or perhaps not so much, the lawyer in this aforementioned case is the same one who emerged victorious in the lawsuit against Pharrell Williams and Robin Thicke, in another copyright case stating their already controversial hit, "Blurred Lines" ripped off a song by, you guessed it, Marvin Gaye.
Sheeran has yet to publicly comment possibly because, as he himself would put it, "Maybe it's all part of a plan."