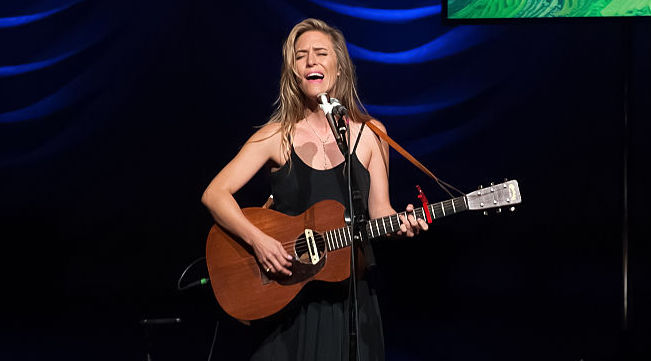 Feist's release of this year's excellent Pleasure —one of the best albums of the year, if we do say so — was marked by a low-key nature. Despite being her first album since 2011, the Canadian songwriter seemed comfortable with a mellow theater tour and few festival appearances. There was the marked atmosphere of an artist existing on their own terms, and for someone whose found the kind of success that Feist has, the release stood as a welcomed change of pace when compared to the relentless hustle that's become all too common.
On December 11th, Feist's unconventional release strategy will continue with Pleasures: The Meals Of An Album, a cookbook celebrating the food that helped make the record possible. The book is a collaboration between Feist and Adrienne Amato, who served as the chef during the album's recording. Containing more than 40 recipes used during 11 days of recording, the collection is organized in a song-by-song format, highlighting what the band was actually eating while the songs were created. Not surprisingly, the cookbook is vegetarian.
"The making of an album is a communal process on many levels," Feist said in a press release, "and that extended to the community of the kitchen while we were recording. We hope this book will embolden you to expand your repertoire, stock up on simple staples and invite friends into your kitchen to cook some of these meals with them."
Released in time for the holiday season, Feist will be using some of the proceeds to help the less fortunate eat, donating to Community Food Centres Canada. The 122-page book is available to order here.