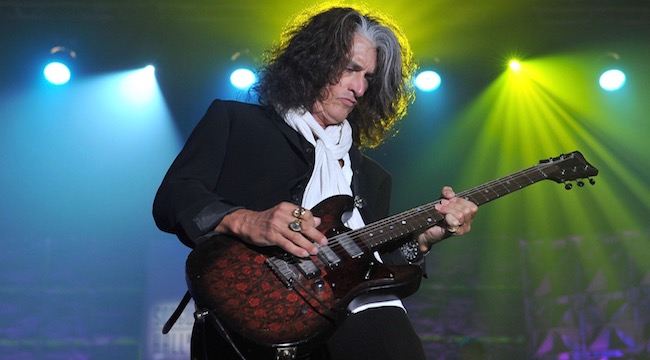 With the Aerosmith docket a little bit empty these days — no scheduled tour dates, and no plans for another album — Joe Perry has decided to to keep the musical juices flowing through other avenues. Today, the guitar god has announced that on January 19, 2018, he will put out a brand new solo album titled Sweetzerland Manifesto. Perry self-produced the album himself, along with his Hollywood Vampires bandmate Johnny Depp, though the actor isn't the only well-known entity who helped out on the record.
With a rolodex as deep as they come, Perry reached out to a number of rock and roll vets, including Robin Zander of Cheap Trick, David Johansen of the New York Dolls, the Who's drummer Zak Starkey — otherwise known as the son of Ringo Starr — and '70s powerhouse singer Terry Reid for assistance. "It's going to be interesting to see what songs people gravitate to because there's such a wide variety of tunes," Perry noted in a press release.
Sweetzerland Manifesto is Perry first solo record since 2009's Have Guitar, Will Travel. Before that, and alongside his Aerosmith work, he put out four different records through the 1980s and '90s with his band the Joe Perry Project. Check out a full tracklist below.
1. "Rumble In The Jungle" (instrumental)
2. "I'll Do Happiness" (featuring Terry Reid)
3. "Aye, Aye, Aye" (featuring Robin Zander)
4. "I Wanna Roll" (featuring David Johansen)
5. "Sick & Tired" (featuring Terry Reid)
6. "Haberdasher Blues" (featuring David Johansen)
7. "Spanish Sushi" (instrumental)
8. "Eve Of Destruction" (featuring Joe Perry)
9. "I'm Going Crazy" (featuring David Johansen)
10. "Won't Let Me Go" (featuring Terry Reid)