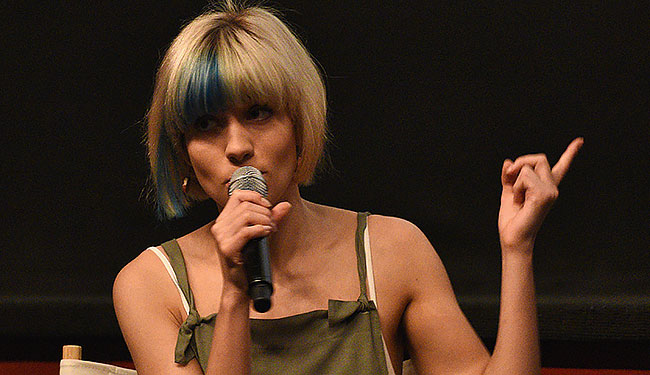 Pussy Riot's Nadya Tolokonnikova has been arrested again, this time for staging a protest in support of female prisoners in Moscow. Tolokonnikova was one of the members of the group to serve two years in prison in Siberia after protesting at Moscow's Christ the Saviour Cathedral in 2012. She was found guilty of "hooliganism motivated by religious hatred or hostility."
This most recent arrest came when Tolokonnikova and fellow activist Katya Nenasheva decided to "celebrate" the country's Russia Day by dressing in prison uniforms laying out white, blue, and red (the colors of Russia's flag) strips of fabric in an attempt to stitch them together to form the phrase "Prison Camp Russia." Naturally, Russian police were having none of it and hauled the pair away in the back of a police van.
Before their arrest, Tolokonnikova revealed their motives in a statement entitled "Don't Be Afraid."
For 30 days the activist Katherine Nenasheva will be living her regular life wearing a prison robe of a female convict. She goes to exams, takes meetings, goes to the movies, gets groceries, goes out – she continues her daily life.

June 12 is the 18th day of Katherine Nenasheva's action and also Russia Day – an important holiday in Russia that celebrates our flag and Constitution. On this day I am joining Katherine to sew a huge Russian flag in the same prison uniform that I wore during my time in the prison camps.

We will sew the Russian flag on Bolotnaya square, the square that became the starting point for many years in prison for dozens of activists who went out to protest Putin's regime in May 2012. So here we are, on this square, and we will sew the sign "PRISON CAMP RUSSIA" to the face of the Russian flag on Russia Day.
(Via Consequence of Sound, h/t Spin)