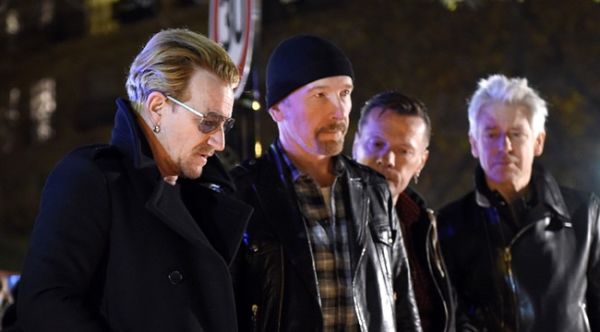 U2 paid tribute to the victims of the Paris terror attacks during the first of two shows in Paris on December 6.
During their performance at Paris' AccorHotels Arena, which was originally scheduled for last month, but had to be postponed following the attacks, the Irish band projected the names of all 130 victims of that attacks behind them. The names were written in blue, white or red, making a giant French flag with a peace sign in the center.
Bono preached solidarity during the set, referencing several recent terrorist attacks around the world. Via the Irish Independent:
"Tonight, we are all Parisians. The world is from Paris. We stand together with the families who lost their loved ones in Paris. We stand together with families in San Bernardino. We stand together with families in Beirut and Istanbul. We stand together before those with false ideologies of the god they serve."
Bono previously revealed how he helped Eagles of Death Metal, the band on stage at the Bataclan during the attacks.
"The best thing we could do for our fellow musicians was to buy them phones… I spoke to Julian [Dorio] and to Jesse [Hughes]. But that was the best thing, Jesse said, just getting the phones to be texting and all the stuff that you do — social media — to find out what's going on."
(via NME)