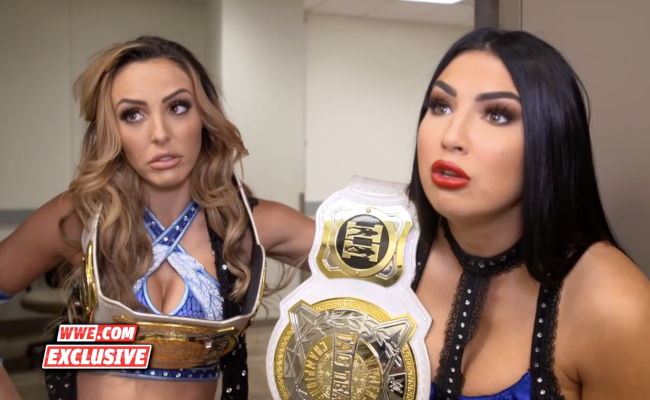 The status of the WWE Women's Tag Team Division continues to seem all-too precarious. After about a year of being built up as the premiere women's tag team, Sasha Banks and Bayley won the titles in the Elimination Chamber, only to drop them soon thereafter to the IIconics at WrestleMania. After their loss, the inaugural champions were split up, leading to Sasha's current absence from the company. Meanwhile the IIconics, one of the great heel comedy teams of all time, have barely defended the belts and didn't even appear at Money in the Bank.

In an appearance on the Gorilla Position Podcast (via Fightful), it became clear that that the IIconics, Peyton Royce and Billie Kaye, have also considered the possibility of being split up by WWE, and they're not in favor of it. Peyton put into words the feelings that Billie seems to share:
That definitely petrifies me I mean, any opportunity I would take advantage of and do my best at it. I just know, especially right now, that this is the best version of me and us. So right now, I'm not looking for a singles career. Maybe if I'm still rolling on my back in ten years I might look to do that but I don't know that right now.
Hopefully the IIconics will get an actual tag team feud going in time for the next PPV where women are allowed, which is Stomping Grounds on June 23. Then maybe the division will begin to feel more established, and we'll have no reason to fear that WWE's greatest kayfabe love story might end in heartbreak.