Okay, so we've been through the best Supreme shirts. We've covered the best Supreme collaborations. But being that the company is one of the OG streetwear brands and so prolific that they do weekly drops, there's still a lot more to know, love, and appreciate. From work with well-known artists to high fashion brands to hosting one of the biggest auctions in one of the biggest auction houses in the world, Supreme has an inexplicable hold on people. And while some people will never understand what that's all about (yes, we read your comments), there are infinitely more who are right there with us — vibing with the ethos, getting hyped on a few gems every week, and actually lining up with the hypebeasts and sneakerheads every now and then.
If you're going to unpack what the company does best, there's no sleeping on hats. Whether they deviate from the box logo or not, many of the designs put forth have been undeniably and endlessly fly. And seriously, the number of hats the company has slapped their name on feels endless. That's why we've yet again taken it upon ourselves to narrow them down to the dopest 50 and put them all in one place for your urban-gear-aficionado viewing pleasure. These are in no particular order because we can't decide what's the hottest. You decide for yourself, you got this.
(Note: "hat" and "cap" are used interchangeably. Don't be that guy.)
Supreme Flags Camp Cap, Unreleased
This unreleased sample is for the super urbangear heads who love all things rare. It's a Supreme urban legend, with various stories about why it was never released. Some believe it was only released to a select few — stars and celebs and investors. There's also a legend that the cap couldn't be released because the message on the Saudi Arabian flag, "There is only one God and Mohammed is the Messenger of God," would be too controversial. Knowing Supreme's controversial history, it's doubtful that this legend is true, but one thing is for certain — it's a shame it wasn't widely released because it looks cool as shit.

Supreme/Stone Island Heat Reflective Cap, 2016
Metallics will never go out of style. Stone Island, much like Supreme, was a brand built off of passion for cool, urban sportswear, so it makes sense that the two companies have synced up for several collabs. This hat adds a little fly to the functional, doing what a hat does even better than your normal hat, and sticking to the sportswear theme that was the original intent of Supreme's brand.
Supreme "Vuitton" Crusher, 2000
Man, look…this one makes the list just because we miss bucket hats with too many logos on them. Also, it's another hilarious example of Supreme's "f*ck it" mentality — as they totally bopped off the Louis Vuitton logo without asking (they have a history of this) and of course, the Vuitton camp had all the hats pulled off of shelves within two weeks.
It was fun while it lasted, though.
Misprint Supreme Ethnic Soft Bill Camp Cap, 2011
Once again, urbangear heads would be elated to get their hands on one of these hats — and not just to bend the bill designed specifically to mold to whatever shape they liked. This hat was a misprint. Not in the pattern, but in the Supreme box logo on the front. It was one of few of Supreme's "camp caps" (5-panel caps) released that summer that ironically raised the price of the limited items instead of being tossed away.
Supreme "Hate" Camp Cap, 2013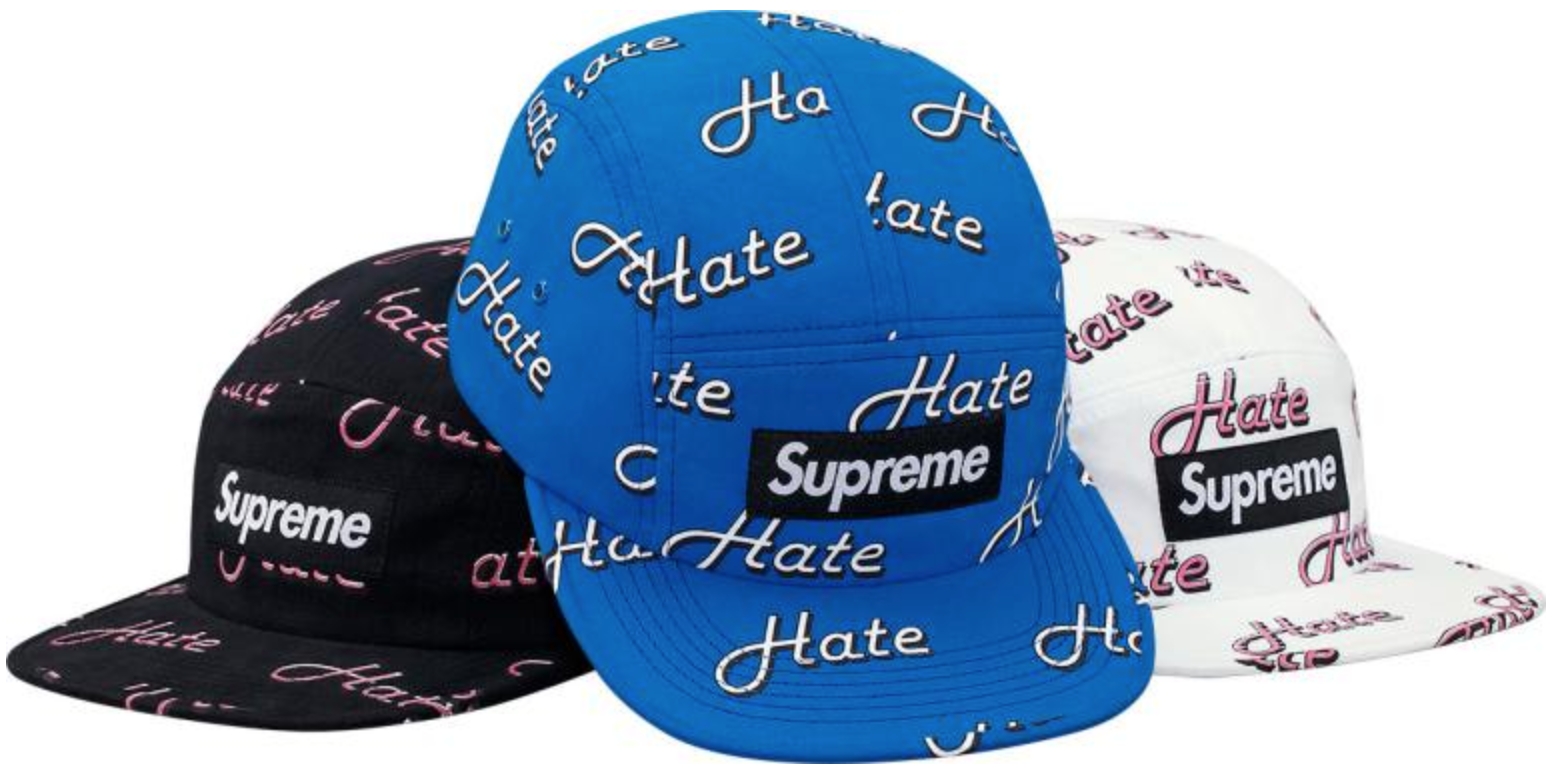 Supreme is known for making statements, and sometimes without much explanation. These hats are inexplicably dope, and come with a sweater to match every colorway. We don't know love hate but we are down to turn the hate on the haters the way this hat deftly does.
Supreme/Jordan® Hat, 2015
A cleaner design incorporating two very well-known brands, the Supreme/Jordan® hat is a part of a collection that features hats, shoes, shirts, sweatsuits, and one of the flyest Supreme jackets there is.
If you're into flexing your branding, this collection would be a bet.
Supreme "By Any Means" Cap, 2008
Supreme makes a ton of sports gear and they're historical fans of the Yankees, being wildly popular in New York and having roots there. These hats feature the Yankees "NY" logo, the phrase, "By Any Means Necessary" (a commonly used phrase by the brand), and on the back of the cap, "No ❤️" that mimics the "I ❤️NY" shirts.
To top it off (get it?), the hats are New Era-made. You really can't get any more New York than that.
Supreme "Pirates" Cap, 2007
Remember when everyone and their dad had this black hat with the gold "P" on it (for the Pittsburgh Pirates), whether they knew what it meant or even cared about baseball? Well, Supreme cleverly incorporated the "P" into their brand name — with the rest of the word written in olde English font across the front of the New Era cap (yep, they were using authentic Pirates hats) and an embroidered gun on the back.
New Era didn't really trip, even though it wasn't a legit collab, but they weren't feeling the guns on the back so Supreme replaced them with martini glasses. Cute. Fam, do you all even know about pirates? Huge missed opportunity for cannons or swords here.
Supreme / The North Face Checkered Cap, 2011
Colors can make or break a brand. Supreme does black and white and simple pretty well, but they really shine in colorful collabs like this mustard-colored, checkered North Face collab. Everything in this drop featured the checkered pattern, and although superfluous, it kinda looked dope to see someone wearing a whole outfit based on it.
Supreme Classic Logo Camp Cap, 2011
As crazy as Supreme fans are for the box logo, they also love the classic Supreme logo embroidered into the grey fleece on this cap. The bills come in four different colorways. Sadly, these are almost completely impossible to locate in resale shops or anywhere online.
Supreme Donegal Wool/Suede Visor Camp Camp, 2011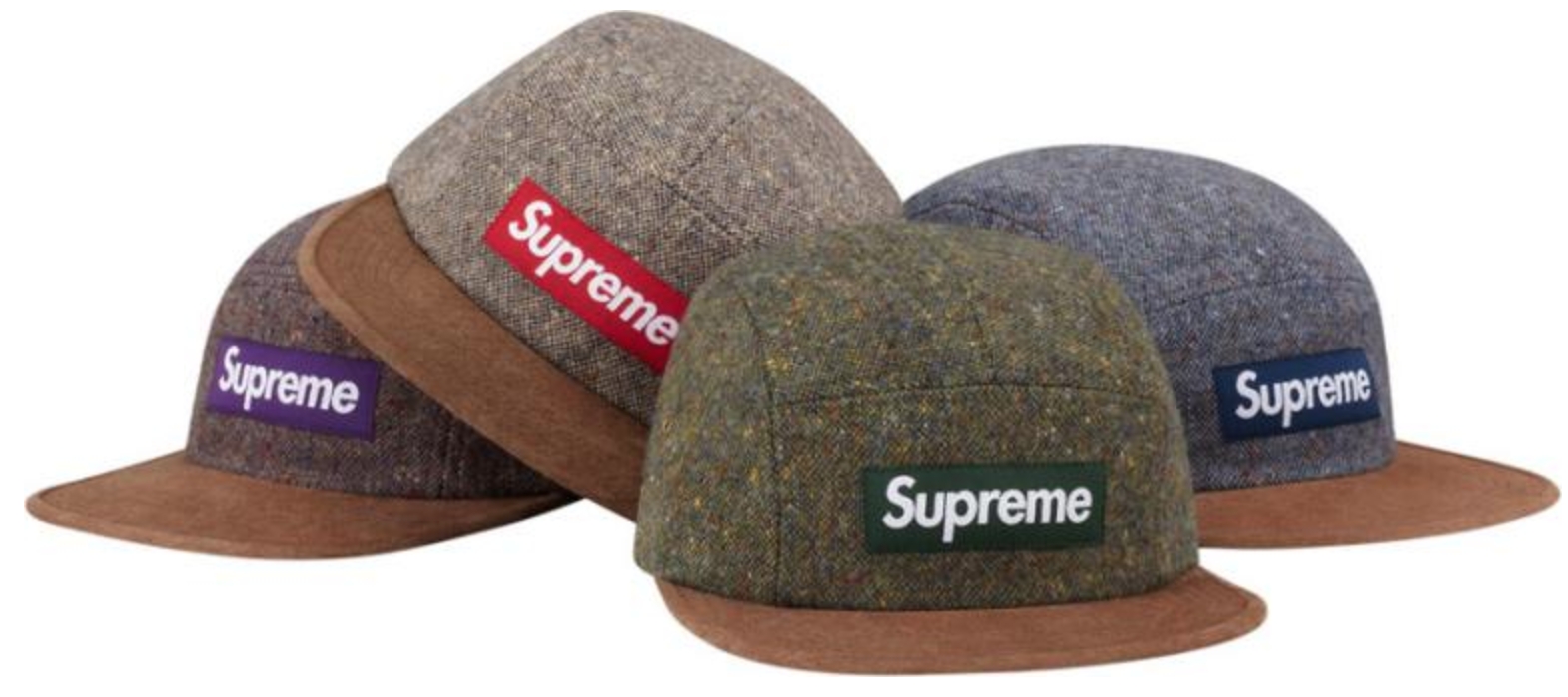 These hats are sickeningly fly. Instead of seeing donegal wool as a horribly itchy winter coat, it's featured on the upper of these Supreme hats with box logos that come in four colorways (the red, of course, being the most coveted). the look is finished by a brown suede bill. Being dopest comes with its troubles, though, as they are also the most faked of all Supreme's hats.

Supreme Olympic Beanie, 2008
Switching it up to what some would call a winter hat, Supreme went deeper than we expected when they released these beanies, incorporating the Olympic rings as a sign of unity, and releasing colorways that include colors that can be seen on at least one of every national flag.
Supreme "Vuitton" Caps, 2000
Again, Supreme totally ripped Louis Vuitton's famous logo and got hit with the cease and desist within two weeks. But that doesn't take away how smoothly they incorporated their "S" into the rest of the Vuitton design.
Supreme Tech Tape Camp Cap, 2014

The box logo seems to have been reimagined for this cap, replaced by a logo that runs down the center of the hat. It looks very clean and modern, and if we had to choose a replacement for the original logo, this would be a contender.
Supreme Posse Corduroy Panel Hat, 2008
Something about corduroy just makes you feel nostalgic, right? Well, whether your answer is yes or no, these hats feature nostalgia in two different ways — they were re-released years apart from each other, and they look like the 5th Ward Posse hat Bushwick Bill of the Geto Boys wore on the cover of "We Can't Be Stopped" in 1991. Its popularity after the initial 2008 release is due to another rapper, though, Tyler, the Creator, who is credited with creating much of the 2010s-era hype around Supreme.
Supreme "World Famous" Cap, 2007
In another instance where fashion met practicality, Supreme took on another unofficial New Era collab with the Washington Nationals "W" logo, incorporating it into the popular Supreme phrase, "World Famous" in a cartoon-y cursive font and adding in a cartoon globe as the "o" in "world."
Just goes to show that imitation is the best form of flattery — but only if it's dope.
Supreme Croc Camp Cap, 2012
Always up for a challenge, Supreme took on faux crocodile skin for a cap in three colorways with other accessories — backpacks, camera cases, etc. — to match. Not gonna lie, it's kinda cool. No matter how risky of a fashion choice it is.
Supreme Balloons Camp Cap, 2008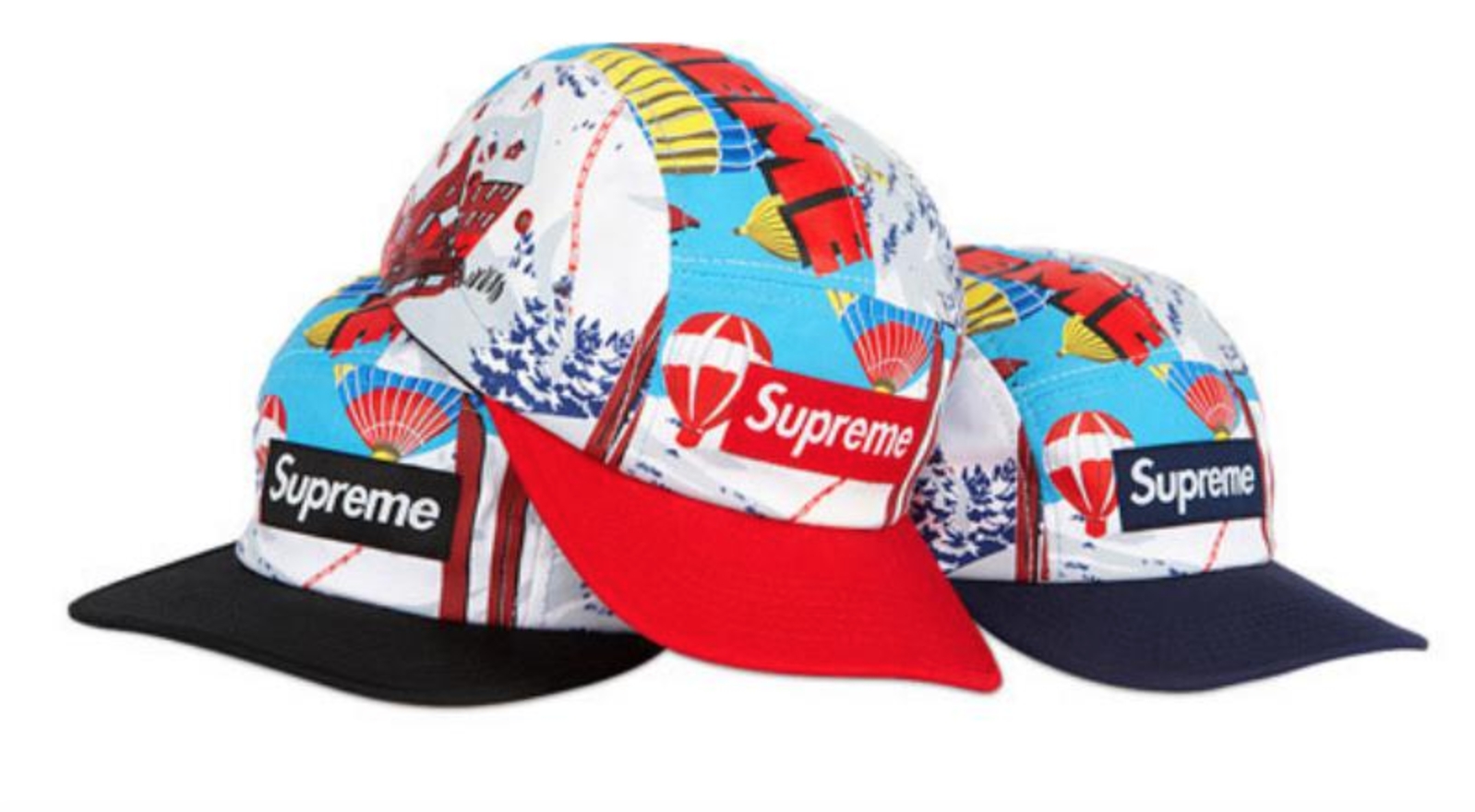 So fun, right?! Anything that looks like the joints Will Smith used to wear on Fresh Prince are good with us. The design is simple — hot air balloons and the sky and snow — but each one is a bit different from the other, and they're all almost impossible to get your hands on.
Supreme Velvet Camo Camp Cap, 2013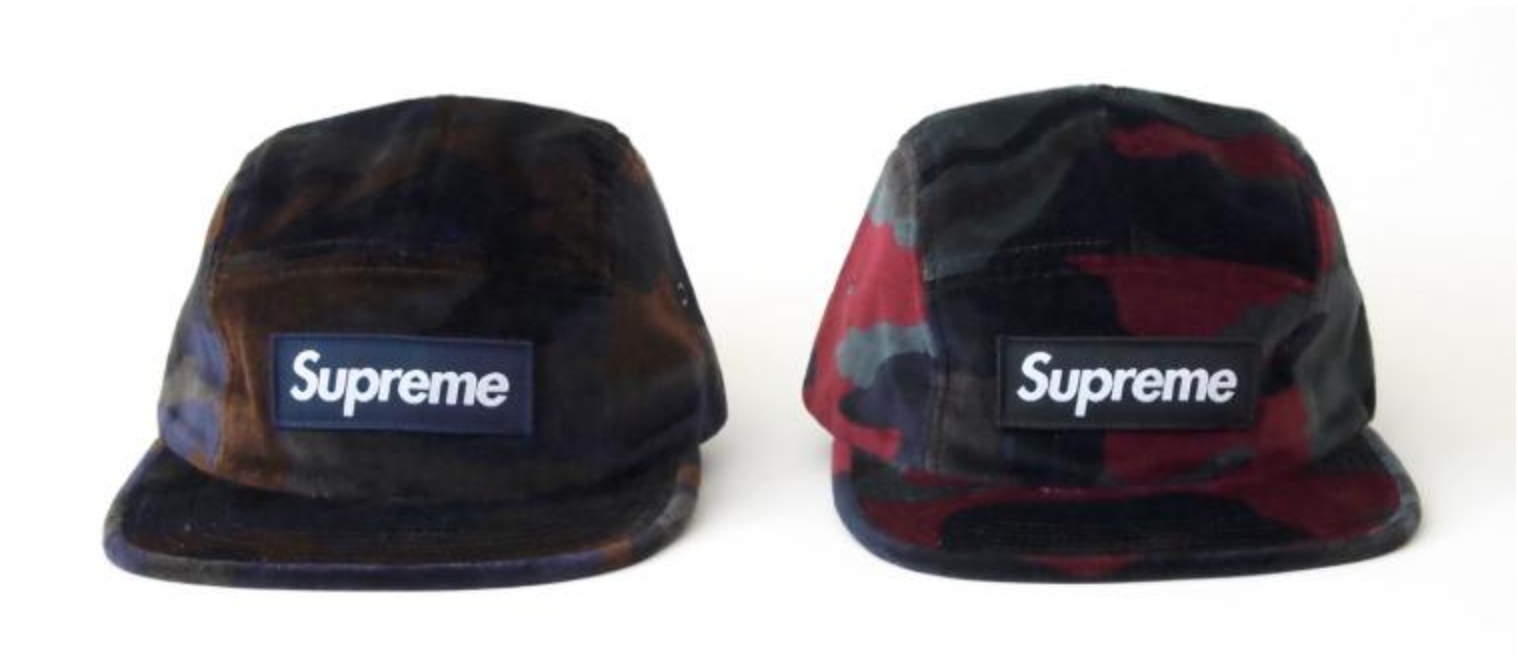 This is definitely a winter item, as velvet seems super hot to wear on your head any other time, but we ain't mad at it. These hats feature two colorways that are so dark they could be mistaken for black until you get close to them and see the deep-colored camo with the Supreme "fat patches," which are really just bulkier box logos.

Supreme x Loro Piana Camp Caps, 2011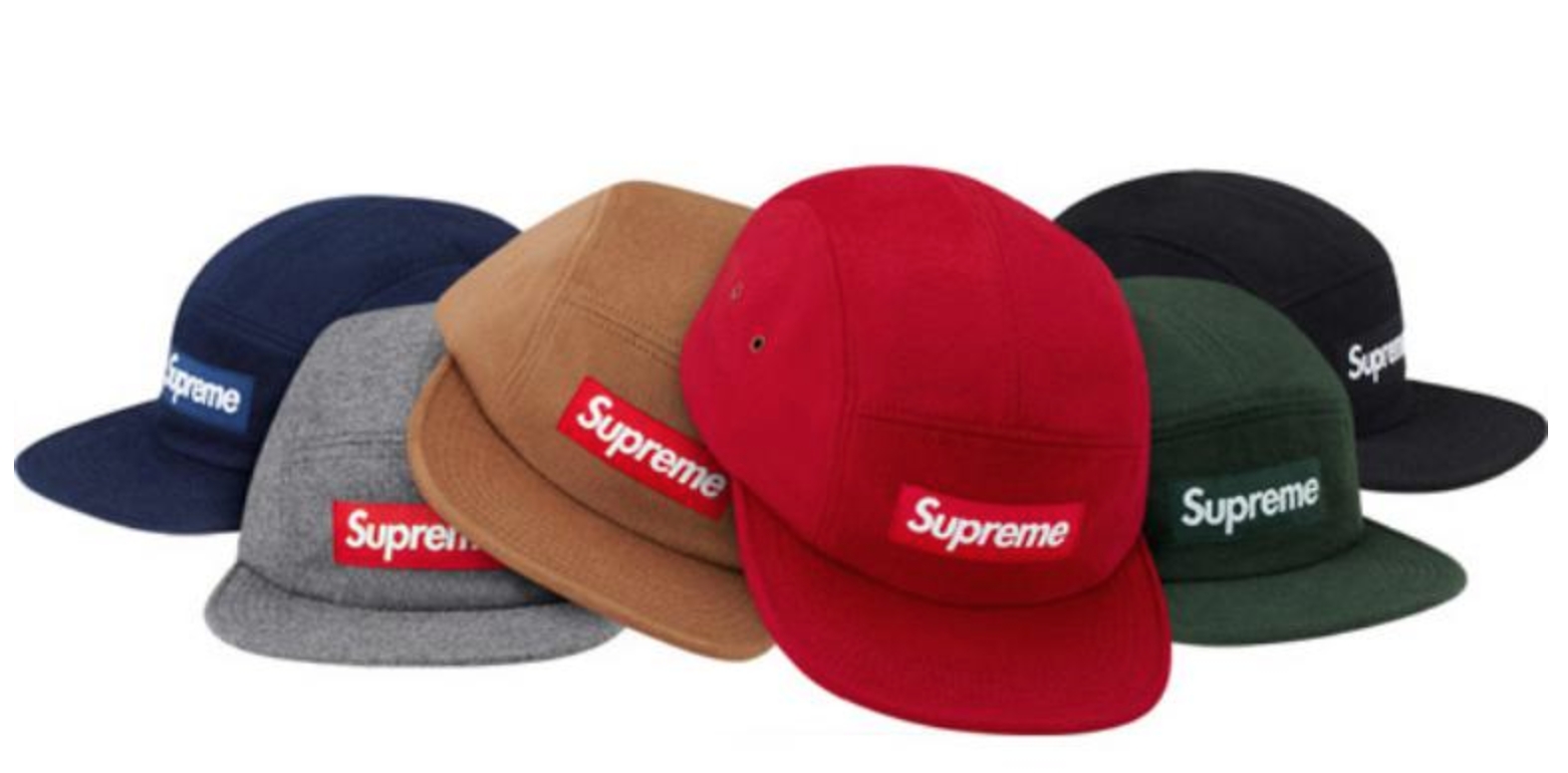 The cap that you've probably seen (and if you're an aficionado of urbanwear, probably own), would most likely be a Supreme collaboration with Loro Piana, the renowned Italian company that makes products out of high quality wool and cashmere . They come in just about every color, and the wool has been used to make matching trench coats and other gear in the Supreme line.
Supreme Alpine Camp Camp, 2008
This one only makes the list in the black colorway, because the other two are a little strange. These hats feature designs of tools that are useful for rock climbing, so they have a pretty niche consumer — but something about the black on black makes it less weird and just does it for us.
Supreme Feathers Camp Cap, 2010
Supreme owes a debt to Tyler, The Creator, for much of recent popularity, and especially the popularity of this cap that he wore in his "Yonkers" video.
Again, Supreme came through with the colors, and Tyler pushed it over the edge.
Supreme Tree Camo Camp Cap, 2012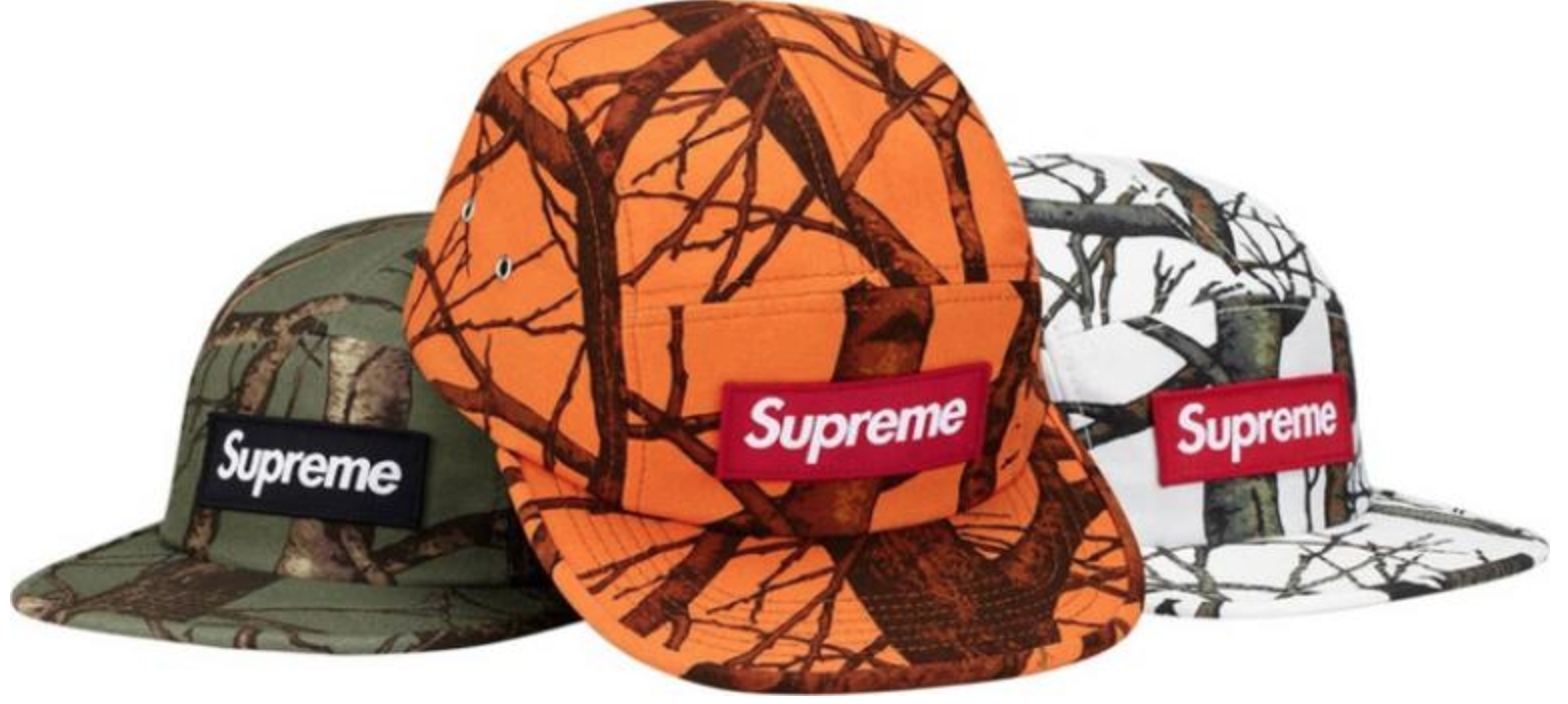 Rappers can't get enough of Supreme and Yeezy himself has been spotted wearing the pullover match to this simple concept with an intricate design. It's fly. Ask 'Ye.
Supreme Subhumans Cap, 2009
Supreme often returns love to the musicians who love their products, and this hat referencing the English punk rock band Subhumans is a perfect example. The design references the band's logo and — to make it fit flawlessly — the Supreme logo reads "Supreme NY" this time around.
Supreme Heineken Cap, 2003
Aight so boom. The legend goes that Heineken was a little miffed about Nike creating an SB Dunk in the beer's colors and logos to pay homage to the brand, so Supreme decided to be petty and use the actual Heineken logo over and over again on a cap. Nike and Supreme have done a ton of collaborations, so it's cool that they stuck up for the shoe brand (which really doesn't need people sticking up for them because it's freaking massive)…if, that is, the legend is even true.
Supreme Leopard Safari Camp Cap, 2011
Credited as one of the caps that made the brand blow up when Tyler, the Creator (yes, again) wore it to the VMAs, the Leopard Safari cap may have really prompted Supreme to release more caps. As simple as it is, it had a big effect on the company — making it less of a skate brand and more of an urban fashion staple.
Supreme Nuggets Hat, 2003
These are LIVE! Referencing the Denver Nuggets jerseys, this retro look is killer — def one of the best sports rips Supreme has ever made.
Supreme "World Famous" Snapback, 2008
We're a sucker for twill. Supreme's love for sports (and possible copycatting of other hats) led them to create hats with colorful "World Famous" taglines on the front, and a highly likely copy of the Miami Hurricanes mascot on the side, even though Supreme decided to go with "NY" instead of "Miami" for the embroidery.
We're not gonna say they copied a lot here…but we'll let you be the judge.
Supreme Corduroy Script Cap, 2007
This one is just pretty. Sometimes less is more, and this is one of those times. Supreme has done script logos before, but the combination of the color, the material, and the writing on the front makes this cap supremely elegant.
Supreme "Land of the Free" Hat, 2010
If you think you've seen this logo before, you definitely have. Supreme ripped the logo from Red Man Chewing Tobacco and replaced it with a more modern Native American man in full headress, its established date, and the phrase "Land of the Free" which might be a purposefully ironic nod to exploitation of Native Americans in branding.

Supreme/American Needle S Logo Cap, 2008
If you're not familiar with American Needle, they boast that they were "The Original Snapback" — created based on baseball caps worn by American players in the 1900s. As kind of an homage, Supreme partnered with them to create its own version of their pinstripe cap, with a giant "S" on the front.
Supreme/Commes de Garćon SHIRT Cap, 2014
Speaking of pinstripes, in the early days of Supreme x Commes de Garćon collabs, Supreme featured and updated pinstripe hat, with the box logo printed backwards across the front. This might not seem groundbreaking, but seeing as the original box logo is almost never manipulated, this makes the cap a rare find.
Supreme Classic Logo Six Panel Hats, 2018
Supreme offered a cool take on their usual hats with these all-cotton six-panel hats with the classic Supreme logo (again, not the box logo) embroidered on the front and custom embossed leather strap closure. This is another example of "less is more" that just seems to work so damn nicely.
Supreme/Public Enemy Beanie, 2006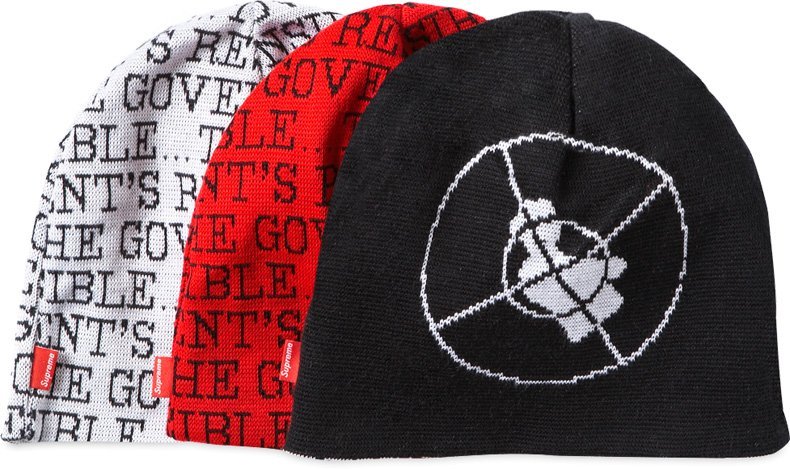 In keeping with the brand's commentary on social and political happenings, Supreme teamed up with Public Enemy — a rap group known for never holding back. The beanies feature the phrase "The Government's Responsible," or a picture of a man caught in the crosshairs of a gun, which is the Public Enemy icon.
Supreme Budweiser Bucket Hat, 2009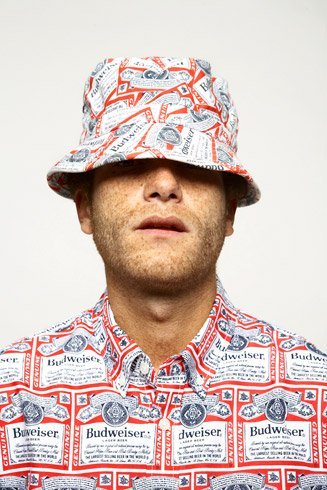 In a fully legal beer collaboration, Supreme partnered with Budweiser to release several products with the beer's logo and name plastered all over them, just in time for the summer of 2009 — an era when people were still trying to make bucket hats happen.
Supreme x Vans x Campbell's Soup Cap, 2012
Supreme has done other food and drink collaborations, including this one with Campbell's Soup. In a bit of a Warhol-ian move, the brand reproduced the soup can label on a hat, also teaming with Vans to create a shoe that had the same look.
Supreme Washed Chambray S Logo 6-Panel Hats, 2018
Is it just us, or do these hats remind you of Skittles? Perhaps it's the washed out look in each of the colorways or the mottled look of the cloth fabric, but these hats and their mostly pastel coloring couldn't be more delicious to look at.
Supreme/Rap-A-Lot Records Hats, 2017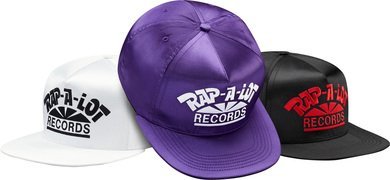 In its Rap-A-Lot homage, Supreme featured statin 5-panel hats that are shiny reminders of how hard Supreme goes when it comes to creating dope hats.
Supreme Military Boonie, 2018
Supreme seems to be on the nostalgia train with a lot of other fashion brands this year, and as a result, we've been blessed with a military bucket hat reminiscent of the day when the Hot Boys ruled the Southern rap scene. "Supreme" is repeated around the hat on black band, just so everyone remembers from whence the freshness came.

Supreme/Cordura Mesh Crusher, 2018
These Supreme-branded hats with lightweight Cordura nylon fabric are colorful things of beauty. Perfect for spring/summer, they come in eight colorways with an unboxed Supreme logo and a band of mesh to keep the wearer's head cool. Fly like kites.
Supreme Zip Twill Crusher, 2018
More twill!! These Supreme hats come with the script Supreme logo in five colorways, one of which is printed with flowers and perfect for any vacation. There is also a zipper on the side of the hat which… we don't know if it can hold anything, but it still looks pretty cool.
Supreme Floral 5-Panel Cap, 2018
These are too pretty to leave out. Each Supreme logo is in collegiate font and follows the shape of the hat, with lightly printed flowers in the background that are not too empowering but definitely noticeable, and a draw to anyone who digs the softer side of urbanwear.
Supreme Ganesh 5-Panel Caps, 2018
Seven colorways of the same design and each one just as dope as the next. The hats are all the same style — nothing to write home about there, but each features an orange patch in the center that depicts the Hindu deity Ganesh — an elephant's head on a human body.
The deity is revered as the remover of obstacles, the patron of arts and sciences, and the deva of intellect and wisdom. Supreme fits its name at the top of the patch, perhaps wishing for all the things Ganesh represents.
Supreme Primaloft Earflap Camp Cap, 2018

Don't ever say Supreme doesn't have your back. They've collaborated with Primaloft — a patented, synthetic microfiber thermal insulation material that was developed for the United States Army in the 1980s — for a winter hat that will keep your hat game as cold as the weather outside, but keep your head and ears nice and toasty.
Supreme Fleece Pullcord Camp Camp, 2018

Snapbacks are cool, but Supreme has taken it to another level with these pullcord caps. These are just plain fun with an added bonus of the warmth the fleece material surely provides.
Supreme Patent Leather Patch Camp Cap, 2018

There are more ways to get shiny headwear than metallic fabrics, and Supreme proves it with these patent leather hats. There's also a pretty neat debossed patent leather iteration of the box logo on the front in the same color as the rest of the hat, as not to be overpowering.
Supreme Classic Script Beanie, 2018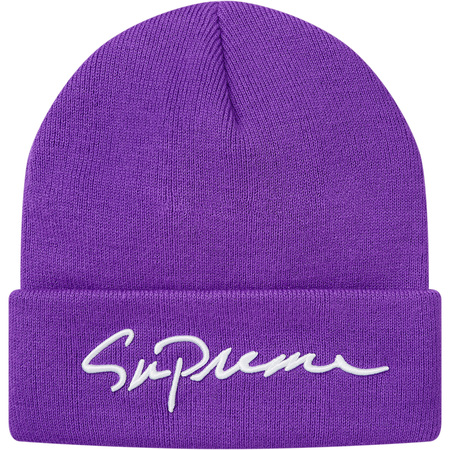 Supreme always gives us a way to rep the brand in a classic, elegant manner, and these acrylic cuffed beanies with the embroidered script Supreme logo on the front cuff are perfect for winter. They also come in orange, dark green, heather grey, purple, brown, black, navy, red, light blue, and white, so you can match them with anything you wear the whole season.
Supreme Vampire Beanie, 2018
These are super random but super lit. The Supreme logo is incorporated into original artwork of a vampire by legendary Alien Workshop cofounder Mike Hill. The rest of the beanie is acrylic with an embroidered logo and art on the cuff.

Supreme Contrast Panel Camp Cap, 2018
These caps are slightly retro, and remind us of the days when color was king. Each piece (except for the black colorway) is pieced together in a different color, providing options for the streetwear lover or skater who likes a little pop of color in their world.
Supreme Preach Mesh Back 5-Panel, 2018

To be quite honest, this one only makes the list (and we saved it for last) because it is wildly different than anything we've seen from Supreme. The back of each of the four colorways is mesh, but the kicker is that each features the same verse of scripture (yes, from the actual Christian Bible) on the front. John 3:16, known as the "salvation scripture," is printed in big letters on each hat, in far contrast from the "F*** 'em!" attitude we've seen printed on much of the other Supreme gear.
At the end of a year when anything can happen, perhaps this is Supreme reminding us that we really ain't seen nothing from them yet.