I grew up with a mom who is a storyteller. I come from that community, and people call it "folklore," and I understand why that word exists. But those are all real stories and they are told in the way that they're told so they can survive generations… That's what I feel like is one of my biggest goals, how do we keep this going beyond this moment?

-Brenda Equihua
For Brenda Equihua — founder and main creative force behind the eponymous label, Equihua — fashion is about more than product. Sure, every brand would like to claim that same philosophy. But few truly embody it.
Brenda Equihua does. A graduate of NYC's famed Parsons School of Design, the designer lives and breathes fashion, using it as a tool to express herself, convey a larger message, carry and reinterpret history, and, most importantly, to question both herself and the gatekeeping "powers that be." Whereas most brands think about the now — what's trending and how to capitalize on it — Equihua makes moves that have the past, present, and future in mind.
Her designs aren't just an exploration of Latin culture, they're a window into her soul. A close study of her work reveals a designer who is thinking deeply about how you can continue an ages-old story as told through design and to push that narrative somewhere new. In a world of fast fashion and disposable design, it's a breath of fresh air.
This is why Equihua has quickly become one of our favorite fashion brands in existence. This is why we celebrate the brand. This is why we think the company's namesake designer is one of the most vital voices in the landscape.
Equihua first gained prominence with outwear inspired by San Marcos' style cobijas. Since the brand's inception, it has continued to evolve offering luxury streetwear filtered through an unapologetically Latinx lens. The best Equihua pieces tell stories, conjure memories and transport you to another place and time.
We linked up with Brenda Equihua to talk about what the brand has been up to, how she uses fashion and design as a storytelling device, and the power of embracing your soft era.
***
The brand is famous for repurposing the Cobija from a comfort blanket to a luxury jacket. Why was it important for you to take this piece of heritage and turn it into something for a new generation?
I think at the time the idea came into my mind, I had really been thinking about what my purpose in this industry was. There are so many fashion designers, why me? What do I have to say and contribute to an industry that's so overly saturated?
I think overall it was just me asking myself, what do I want to manifest into the future? What are the things that I don't want to see lost? What are our collective memories that I want to preserve and how do I want us to remember them? And what angle can I add to this that's going to further amplify what we already know and what we're familiar with?
That's the main thing I really wanted to do. The San Marcos Cobija was, to me, one of the most iconic things because it's not only tied to our memories but it's also visually striking and it has feelings associated with it. So to me, from a sensory part, it touched on all of our different senses. If you think about it, also, there's scent involved right after the Cobija gets washed. That Cobija smell of it, it smells like softener. So there are so many different elements about those memories that I think on a collective level tap into our memories and all the different senses.
For me, that was just really important. It was perfect, and I couldn't have asked for a better medium to work with and to have conversations with.
When I first found out about the brand one of the things that struck me about it was the maximalism of it, compared to what else was out there. Obviously, the main hook was this connection to my own childhood but the maximalism really stood out because minimalism was the prevailing trend at the time. Now that the fashion world seems to be embracing maximalism, do you feel like things are catching up to your vision?
Gosh, you can't really talk about trends and aesthetics and things that fashion pushes forward without really talking about who the people that have been behind those conversations, and the gatekeeping behind it, are.
When I think about what we're doing, I don't even think about it as maximalism. I think of it as just how we live. We're just now in a position where there's no middle person to stop us from the things that we want. Stop us from seeing and wearing the things that we want.
I think that I came from a very traditional fashion background at Parsons, and when I was at school, it was all about minimalism. And Francisco Costa was out at Calvin Klein, it was Narciso Rodriguez, it was Raf Simmons at Jil Sander.
It was just extremely streamlined, and we were being trained to pretty much design like that. It made me very uncomfortable because I felt like the whole purpose of me doing what I was doing was to express who I am.
I think we're very expressive as a community, not only in the things that we wear but in the ways that we speak. And for me, I guess the category of it being maximalist I feel like that's an outsider's perspective of what our experiences are. To us, this idea is normal.
In our world we have Cobija and colorful things, that's just what we grew up seeing. That's what our houses look like. That's our life. Only when we're drawing comparisons does it become maximalism.
So it didn't feel so much subversive as true to your identity and where you come from?
To me, it felt normal. People talking to me about minimalism, that didn't feel right. I shouldn't say that because I do have the ability to express myself in that way, but to me, the idea that minimalism was the thing that we should be striving for, felt very foreign to me.
Even if you think about the way we acquire things. Coming from an immigrant community, people keep things. They treasure things. If someone gives you something, we have such a thing called recuerdos [Spanish for "memories" in this case, like an heirloom], we go to a party, somebody makes something and they give it to you for you to keep, and your mom keeps it forever.
That's the culture that we grew up in, is just treasuring things and acquiring things. And sometimes it's not related to aesthetics, it's related to feeling.
I wanted to talk about some of the more recent Equihua pieces, specifically the inspiration behind the Terrestrial Activities camp shirt, and Mermaid Home Girls. I feel like it's showing a more playful side of the brand.
I feel like I've really been tapping into my inner child and finding a lot of comfort and peace there. On a collective level, a lot of my friends and people that I know, we've all been in that frequency.
The stories are kind of personal even though they're not being expressed that way. Over the last couple of months, we have been engaging in "terrestrial activities" collectively as friends. I've noticed that there's a shift to that. There are more people having kickball meetups and people are playing pickleball, which is a more, I guess, playful, version of tennis. I don't even know how to phrase it…
Right, it's less competitive.
It's chill tennis, and so people are in their soft era. And the softness to me is also tied to childhood, having that sense of freedom. For my birthday, we played a game of kickball and people had a really good time.
One day my friend was having a barbecue and we were all just playing catch, and it was just a bunch of 20 and 30-year-olds just throwing a ball around at Elysian Park.
A lot of these memories are things that I'm doing and things that I'm noticing on a collective level.
I feel like even though the story of the Marcianos… it's aliens. I feel like it's very relatable. You can anchor into that world. Even with Mermaid Homegirls, there's so much more tied to it than the funniness.
I think it's very Mexican to incorporate humor into serious topics, right? That's the nature of the Ex-Votos too, which is what these are inspired by, very serious things that are illustrated in ways that are funny with funny stories, but behind all of this is real life.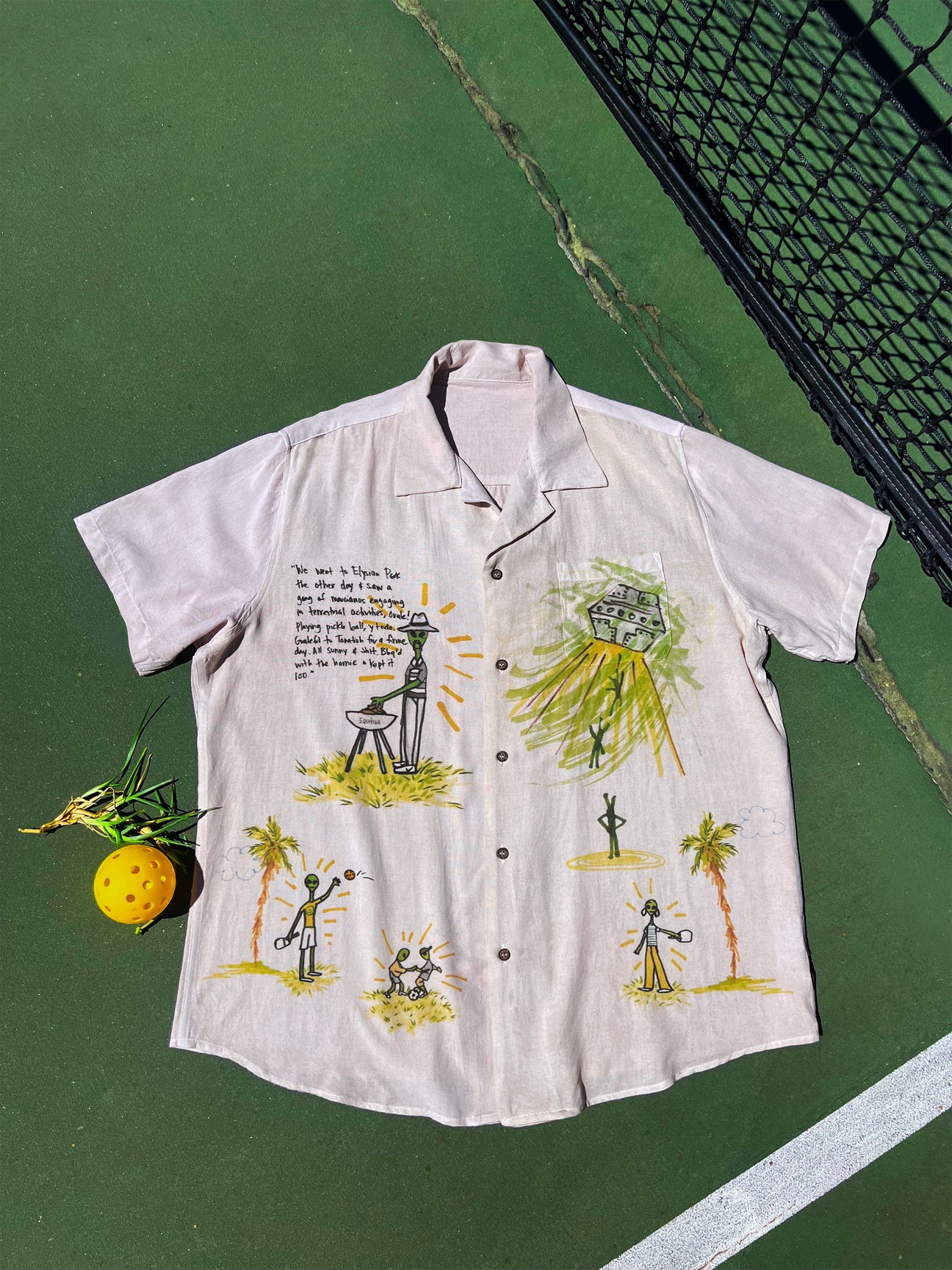 On the other end of that is the Origins collection. Can you talk about Origins and the concept of what you call "portal wear?"
Origins is a project that I've been working on mentally since 2017 or earlier when I started to do the research of San Marco Cobijas.
My research showed me that the blankets were no longer produced in Mexico. And that was a very painful reality, I remember thinking, "Wow, I didn't know this. And there are probably so many other people that don't know this," we all think we're buying San Marcos blankets and it stopped being San Marcos a long time ago, and the blankets are being made somewhere else.
Ever since I've heard that I wanted to take the story back to Mexico, and I finally had the opportunity last July to go to Mexico and start the sourcing process and look for blankets that I felt would be able to bring that story back, but also into the future. My goal was to bring the story back to Mexico.
When I found the Aztec calendar, I was like, "Oh, shit. The story can go further than Mexico… before it was called 'Mexico.'" So the blanket was pretty much telling me what it wanted to become. It was like, "Hey, let's tell this story. Let's really go back."
The story evolved from there, I was thinking about how to make this image, which we're all super familiar with, we've seen it done so many ways, the Aztec calendar, we've seen it on ponchos, we've seen it on art, we've seen it in homeware. We are very familiar with this calendar as a community.
So I'm always thinking how can we translate this in a way that is new, that is futuristic? And so usually for me, that means combining it with something sort of unconventional.
I think the more predictable thing would've been to cut it into a poncho or something. But I was like, what if we took this super regal imagery and put it into these silhouettes that are considered workwear? We need this workwear that's so totally elevated that it's almost unrecognizable. And that's how the Levi's silhouette jacket and the Levi's inspired pants, those silhouettes, came into play.
And then the story just started to evolve from that. I was thinking a lot about the world where we are and what is the messaging. What if the lightworkers from the future came to visit us? What sort of things would they want to remind us of?
In my mind, I imagine they'd be like, "Hey, stop fucking shit up. Y'all have to do better as a society. We've lived through this and we've seen the world destroyed this many times. It's in the calendar, we have sacred knowledge and we want to share that with you."
And ultimately what that led me to was this idea of when are we our best selves historically? When we're kids, we're so innocent and we're so precious and beautiful, and we are so curious about the world. If we're lucky, because every child doesn't grow up the same, and some children have to grow up to find that in their adulthood. But the story is also about that too.
It's about taking that spirit of when we're kids, we know what's right. We know hurting someone is bad. We know love at its purest form. And I think that if we remember that more, we would just be better to each other and we would treat nature better. We would just be better humans. And if we believed in our superpowers the way that we did when we were kids… when you said you were the Blue Ranger, you thought that no one could tell you otherwise.
"No, I'm the Blue Ranger." You would go to war over it. "I'm the Blue Ranger, and I have the power and the ability to be this giant force."
And when we become adults, we lose that and just subscribe to these things that are detrimental to our society. If we remember to keep that part of ourselves to continue to connect to that, I think that we stand a chance. And that's what Origins became.
When I went back to Mexico, there was a message there for me. I didn't realize what I was going to find there. And it ended up being a treasure. It was a message. And so I feel very lucky to be getting these downloads. And the story of Origins for me is really about hope and about remembering.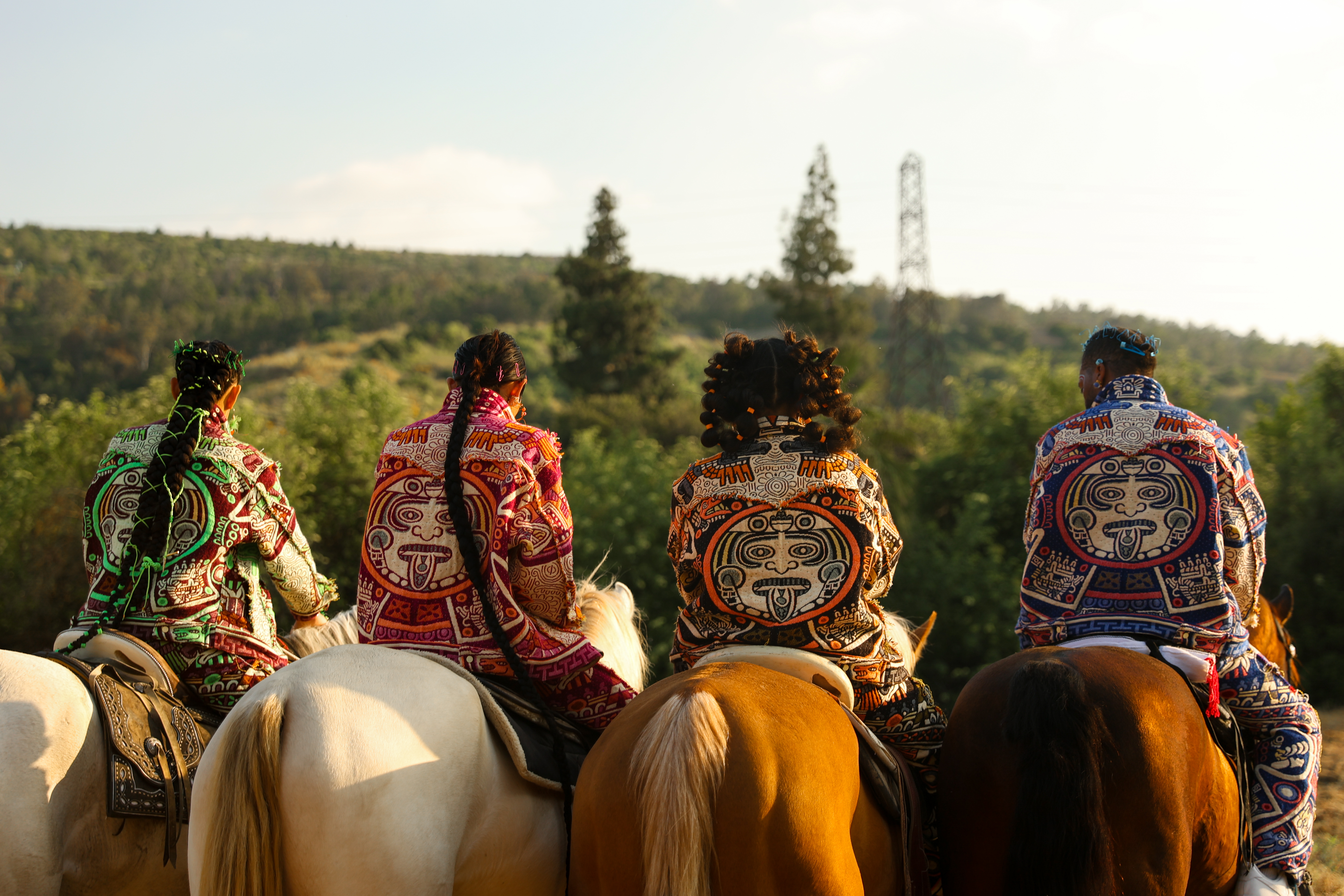 I like the story of that and the juxtaposition between something spiritual and workwear, it feels like a cool evolution of the brand, especially because Equihua started with the hoodies, which were inspired by the Cobija blankets. Which I think both represent comfort. It deepens it and has a historical angle to it.
What other kinds of stories do you think you'll tell in the future?
I think that all of these things are determined by observations.
I'm very lucky to be very, very closely connected to the community, and to the people that are directly supporting the vision. And I think a lot of the inspiration and the things that we decide to do and to touch on are also the conversations that we're having with them. Sometimes I'll just ask things on my Instagram Stories. I just want to know how people are doing, what's happening in your world, and how are you feeling. It helps me to understand people better.
Conversations I'm having with friends. Questions I'm asking myself, things that I'm curious about. But in the future, it's going to be driven by the same frequencies that led me to the San Marcos and the Origins, and the Ex-Votos.
It's not easy for me to describe what I do, to be honest with you, but I think a lot of it is just me being curious about something and how I can share this story in a way that feels relevant to today and the future.
I grew up with a mom who is a storyteller. I come from that community, and people call it 'folklore,' and I understand why that word exists. But those are all real stories, and they are told in the way that they're told so they can survive generations… That's what I feel like is one of my biggest goals, how do we keep this going beyond this moment?
Beyond this being a shirt, what happens when we engage in this sort of format and what conversations does it mean people are having with each other?
Take the Ex-Votos alien story, someone could be wearing that shirt, and maybe someone looking at it and say "Oh, that's a cool shirt." "Oh, it's actually an Ex-Votos-inspired shirt." 'Oh, What is that?' That creates a dialogue and now the story's made its way to someone else.
So for me, it's really about preservation and creating heirlooms through memories. When we think about the things that we want to keep or the things that you have that don't really have "value" to other people but have value to you it's because there's a story behind it or a memory.
I feel like I want to do more collaborations because I want to be able to tell these stories in formats that are bigger than what we currently have access to because we're such a small brand that our stories can only be told right now with the resources that are in front of us. And I feel like if we partner with the right brands or if we just have the right partnerships, we'll be able to really do more with it.
I'd love to do films and also a sneaker collab and tell a story with that. I feel like we can incorporate a lot of what we're doing into so many mediums. I think what's next for us is we have to be realistic about where we are and not be afraid to ask for opportunities and ask for help in amplifying what we're trying to do. And that's something that I'm trying to get better at.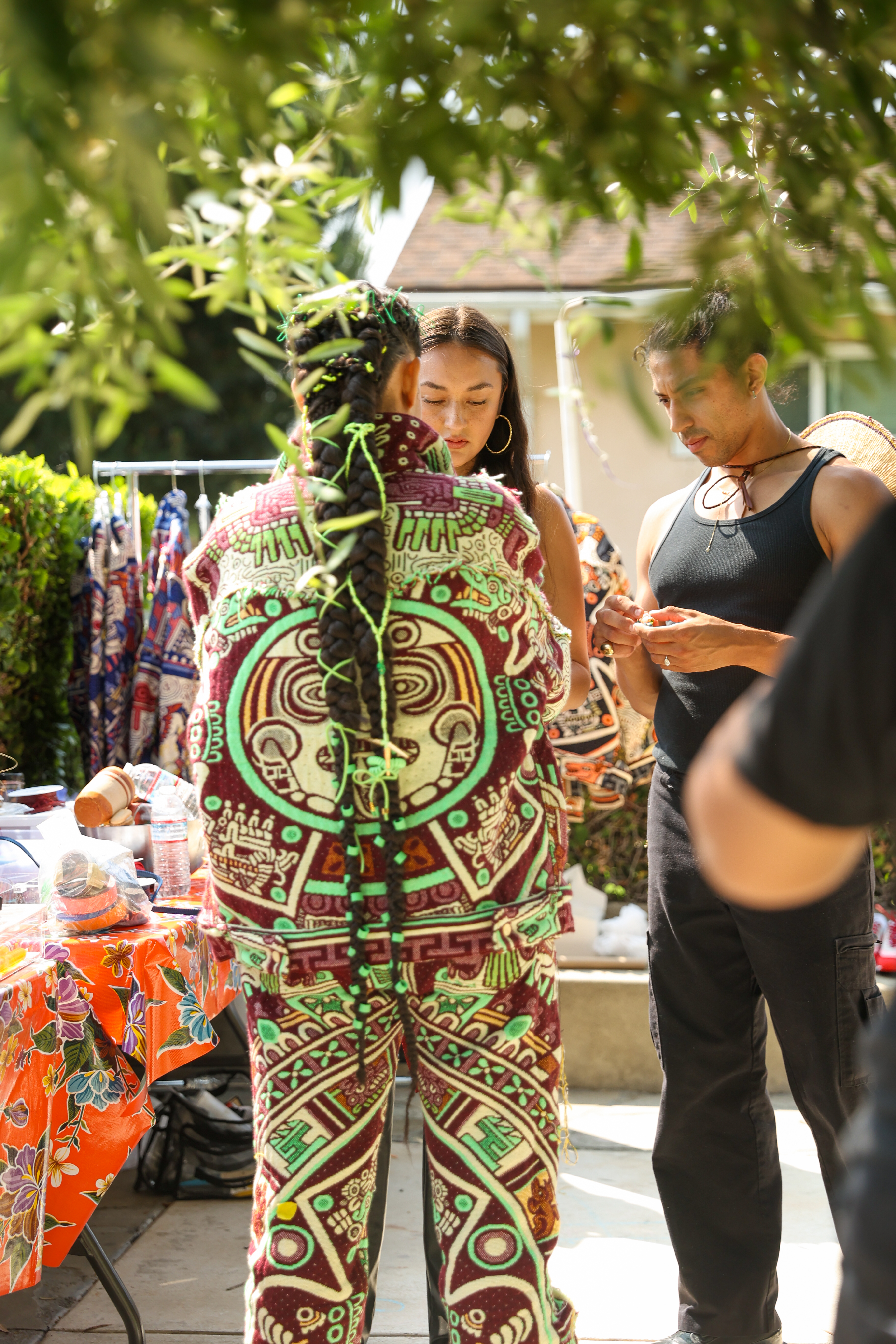 Would you say that conversation starting aspect goes hand-in-hand with the high-end handmade quality of everything that you're doing? Because these pieces are ultimately used as storytelling vessels, it feels like the fact that they're handmade and quality helps add to that longevity because they're not throw-away pieces. This is stuff to treasure and pass down.
Yeah. I think that for me, making good quality things is natural. I have a training in luxury. I've always loved beautiful things ever since I was a kid. And that came from my mom and her loving going to garage sales and finding luxury brand treasures. So for me, making beautiful things feels like something that I'm made to do and that I love doing. I love the outcome of a good well-made product.
And really, when I say I want people to keep these as heirlooms, for me, I take that very seriously. We need to make beautiful things that people want to keep and have the stories behind them that really cement the idea that this is something you want to have forever.
I know this is bananas, but making good clothes is also about respect for me. I don't want to disrespect you, and I know better because I know how to make good shit. Why would I give you something that's trash, that's disrespectful to you as a person that's supporting me.
I think that speaks on respect for the environment as well.
Totally. I don't want to make clothes that end up in a landfill. Even if it's on a resale level, it's being sold for three times the cost, but then eventually it leads to a landfill, then what is the point? I just don't want this to end up in the wrong place.
I want it to be treasured and I want it to be passed down. And I know that we are doing that kind of work because I get direct feedback from the people who support the brand. I know what we're doing is very special, and I take that very seriously. I literally think about the people who are supporting me not as consumers. I think of them as people who are supporting the brand and are choosing to do that. We need to respect who those people are, and we need to do things with love and intention because they deserve that.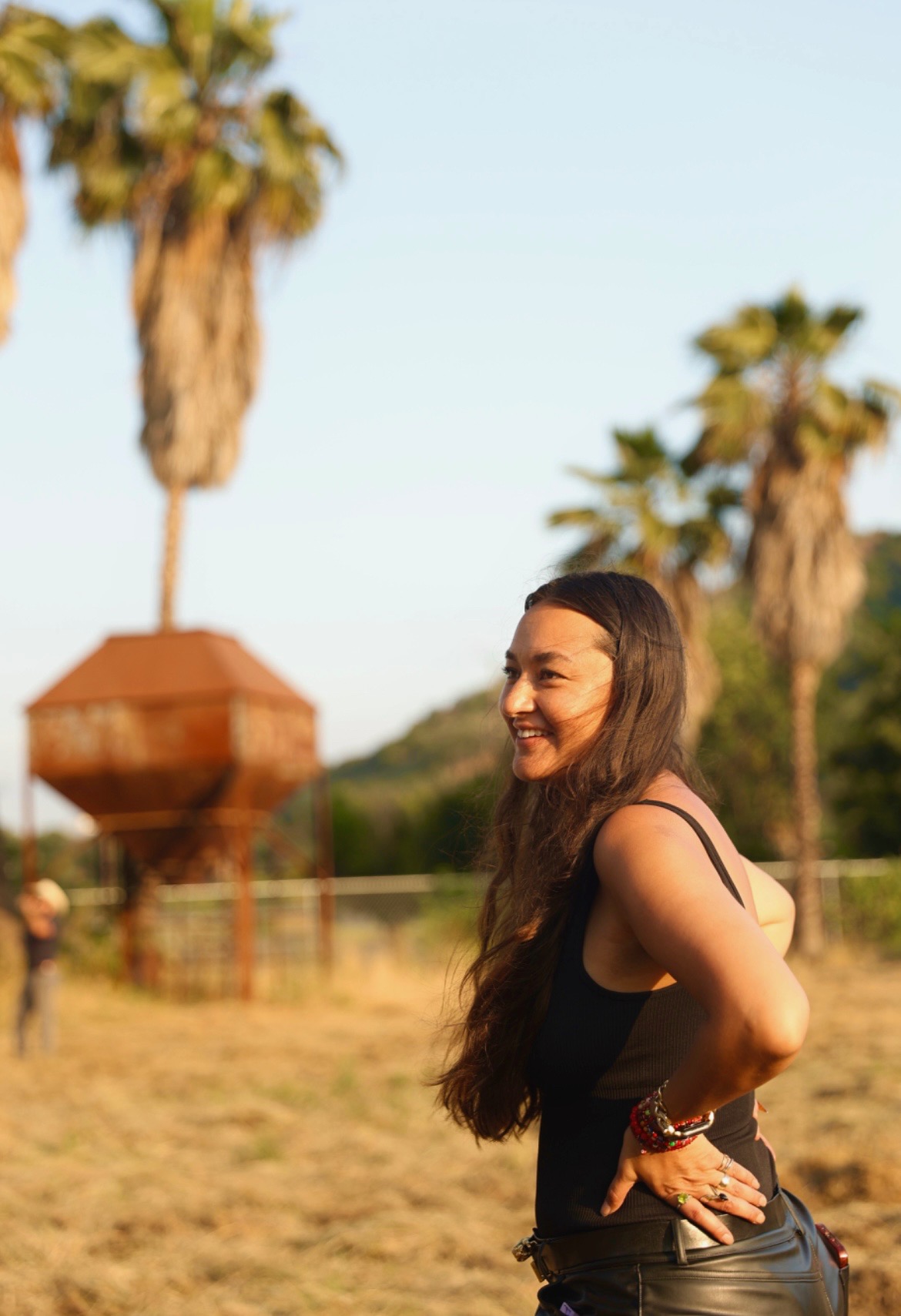 How big of a challenge is that when it seems like people are increasingly looking for cheaper and cheaper clothes? Do you feel like your audience just has a completely different mindset?
It is a challenge for sure. Our people are out there. I know, but we haven't reached not even 1% of the people who are for us. But it is a challenge financially because I understand why people cut corners. Doing things the right way, a lot of our pieces are hand-cut one by one. 90% of everything we do is cut literally one by one, even our scrunchies and our hoops, and we're producing, I'd say 95% of everything in LA. And we source most of what we create locally, even if it's an overseas product.
It's very hard. It's very challenging because we're not making large mass-market units.
I don't even know if the consumer needs to know this, or maybe they do, but people just don't understand fashion enough. In terms of the way that it works and why you're able to get something for $15 cheap from H& M and Zara. They are cutting millions of that product, which is why they're able to get it on the cheap. They are negotiating. It's not even just labor they're saving on, they're saving on material, they're saving on shipping, they're getting all the deals, all the tax breaks.
And in a small business, if I'm doing stuff made to order, I don't have good negotiating power with the people that are creating the pieces, but I also have a fucking conscience because I'm close to it too. I go and I see who's sewing it, and I actually care. And caring means that caring and capitalism are not best friends.
Not compatible.
They're not compatible. And so that makes it very, very challenging. And we don't have an investor, so everything that we make from ourselves goes back into developing new products and covering our overhead. We're still educating people on what it means to make a garment.
It's extremely difficult. That is our biggest challenge. I have a lot of these conversations with other friends who are in the industry and they tell me, "Well, why don't you just price it what it is?" Pricing it what it is would mean that the coats are over a thousand dollars. And I'm like, that's a whole other type of person that I'm speaking with. I fucking love the people that support me. Those are my friends. Those are people that when we have popups and when we are at ComplexCon and when I actually get to meet those people and we have open studios, I love them. I'm like, "These are the best people on this fucking earth."
And the thought of pricing them out, it's very hard for me. I'm like, "They want nice things too." And I don't know what the end result will be of what we're doing. I know that it's very hard, especially now.
But I know that this is a community that I am very connected to and I want to make it work. I want to be able to have these pieces be what they are and be able to have these conversations with the people that matter the most.
To me, I do feel like the people who purchase our products are people who genuinely care. They care about the planet, they're engaged in community. They are looking after their neighbor. They're the kind of people that are going to be there for you when shit hits a fan. And maybe that's super naive of me. I live in a fantasy land but that's how I see people.