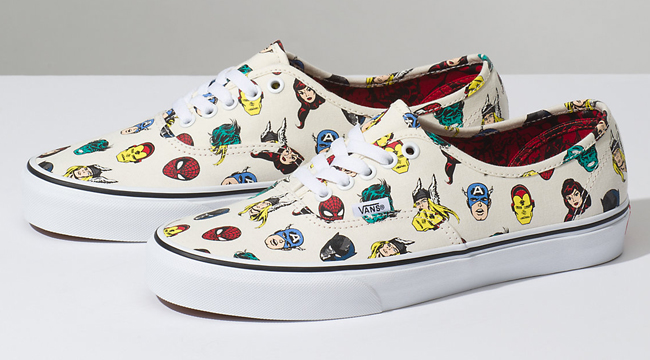 One myth that we have tried to dispel through our coverage of skater life is that all skate shoes look the same. Sure, they often take on the same style and — because Vans and DC Shoes seem to be running the game — it can get repetitive every now and then, but all that only means that occasionally, the shoe game needs saving. And when it comes to skate shoes, your friendly, neighborhood savior isn't DC – it's Marvel, with some help from Vans.
The iconic skate shoe brand is teaming up with Vans to celebrate the superheroes of the Marvel Universe with its Vans x Marvel line of gear, featuring shirts, backpacks, socks, hoodies, hats, keychains, boxers, and shoes in just about every style. There is literally something for the whole family, as gear comes in women's, men's and kids' sizes, and in too many colorways to name. Even cooler than offering the gear for everyone in the family is that, while it may tear you apart talking about who the BEST superhero is, there will be no disappointment over the selection because there is merch to celebrate just about every hero in the Marvel Universe.
Even better than that is the collection's affordability, with shoes not going too far over the $100 mark. If you were disappointed by how Infinity War turned out, Marvel has redeemed itself with a fashion collab that is worth turning to dust for.