If there was any doubt in anyone's mind that Virgil Abloh is the hottest name in the style game right now, he dispelled it with his first show for Paris Fashion Week. Abloh is the comeup king — going from fashion-forward intern to Kanye West's muse and artistic director to the runways of Paris as LV's first ever black artistic director for their menswear line. Because his comeuppance has been so public, it's no wonder there was not a dry eye in the crowd after the fashion designer ended the show in tears, with a firm embrace from his former employer.
Big celebrities like Chadwick Boseman, Rihanna, Travis Scott, Gigi Hadid, Mr. and Mrs. West, and Kylie Jenner came out to support Abloh, and those weren't the only famous faces — Abloh used artists like Kid Cudi and Playboi Carti as his models while blasting the hottest new songs from West's recently released Ye in the Palais Royal, a place that was once the playground of Parisian monarchs Louis XVI and Marie Antoinette.
The castle served as a most fitting backdrop for the event, with its gilded gates and limestone walls accentuated by a rainbow-colored runway, and served as a symbol of the new era Abloh is ushering in.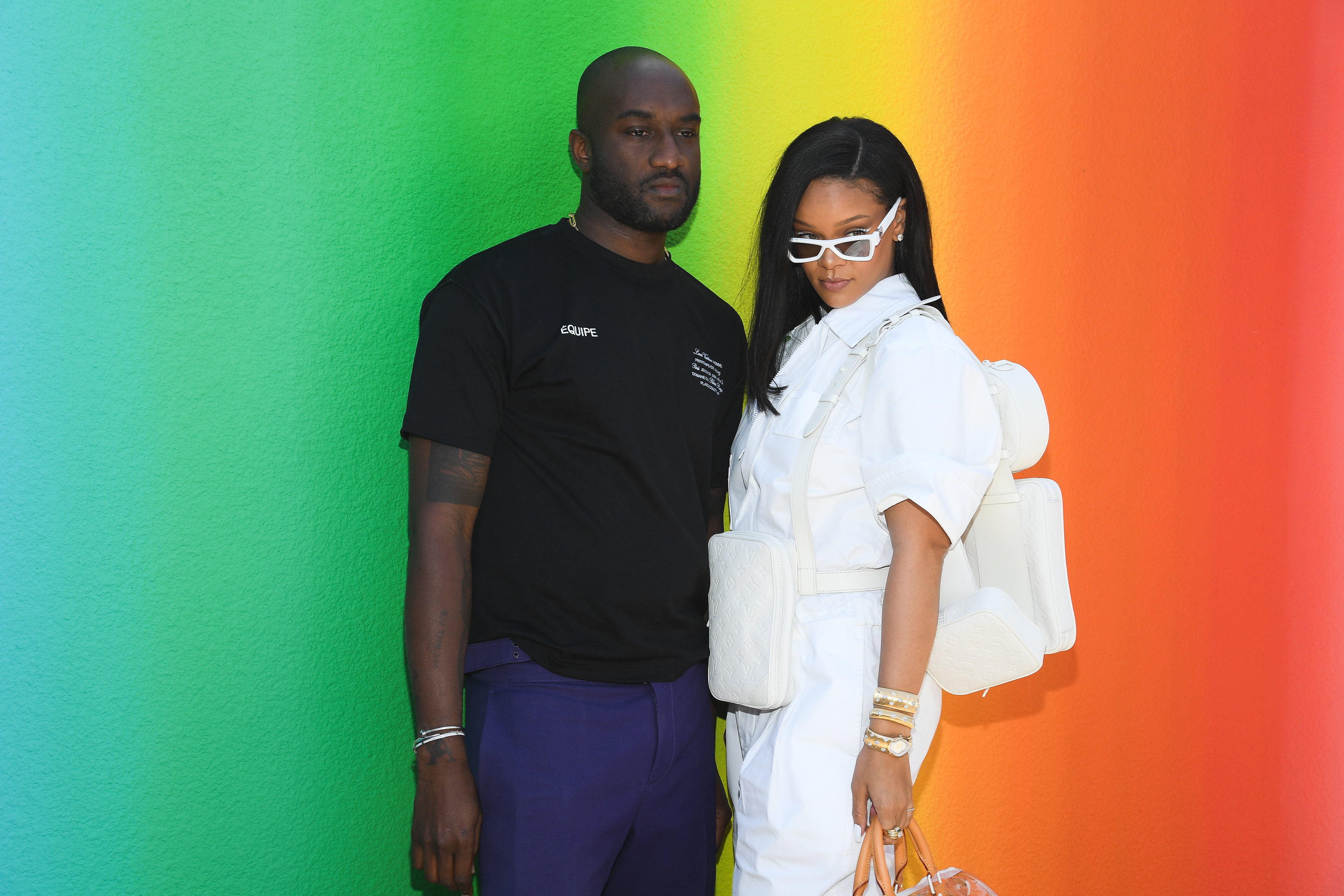 As history tells us, Marie Antoinette and Louis XVI were overthrown by the peasants in Paris during their reign, and Abloh seems to be doing his own bit of monarch tumbling — getting rid of the old stuffy ways of thinking and designing, and catering to what fashion consumers want.
The designer told British Vogue that he "wants the younger generation to know that someone is listening," mentioning that this generation of fashion consumers is less concerned with suits and more interested in sneakers (which would explain his collaborations with Nike for his personal fashion brand, Off-White).
Abloh went on to say that his entire inspiration for the Paris Fashion Week show came from the idea of white, but particularly white as it reflects through a prism, creating color. He told British Vogue, "…that's me—I'm Off-White! That's my raisonne, why I'm here, but now I have the impact of the house. But it's deeper than that. It's race, it's models, it's the political ecosystem."
Being the first African American art director for such a renowned, high-end brand like Louis Vuitton, Abloh definitely understands how groundbreaking his position is, and is using all of the most innovative and modern ways to display his creativity — even using the newly released (two days old, actually) Instagram TV app to livestream his show. If Abloh's success is any indicator of where high fashion is headed, we are giant supporters. The new era of fashion is one that everyone can enjoy, where adults are listening to the kids, and the inspiration is inclusion.