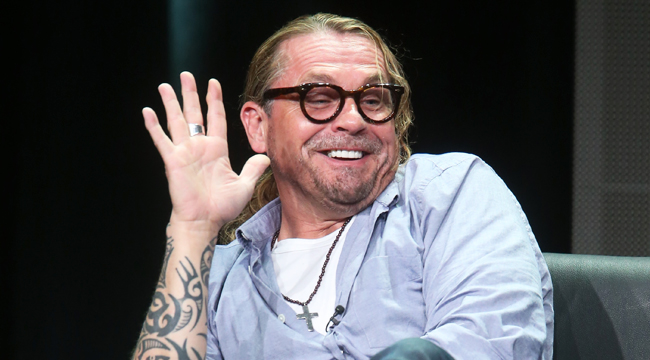 Kurt Sutter's having a ball teasing Mayans M.C., his biker drama from the Sons of Anarchy universe. He promoted the FX project heavily at San Diego Comic-Con, where star J.D. Pardo took hold of Charlie Hunnam's torch while revealing his predecessor's rookie mistake. And Sutter also did an in-depth interview with Deadline, in which he discussed the show's dark themes, which include border happenings that will, inevitably, get somewhat political. However, Sutter's keeping it somewhat light by including a sneaky swipe at President Trump.
The context fits, given that Sutter wanted to use a not-arbitrary reference for some heroin contained within a first-season drug run. During an episode that features right-wing vigilantes and militias who are "hunting immigrants" who cross the border, Sutter wanted to lend these events an authentic feel, so he included a little Easter egg that shall slide under Trump's skin. That is, he pays tribute to Trump's notoriously small hands with the label on a heroin shipment:
SUTTER: You know how everyone has street labels for their drugs? Theirs was tiny hands, which I'm sure will come back and bite me in the ass.

DEADLINE: It's a little shout-out?

SUTTER: It's a little shout-out.
Just a little shout-out. Sutter was quick to mention that his show never directly critiques the Trump administration, but the subtext is pretty clear, not only with the dig at what bothers Trump most but because the Mayans charter in the show is centered at the Cali/Mexi border. No one's sure yet for how long Mayans M.C. shall ride — it could start and end within the Trump years, or it could ride for a full seven seasons like its brethren. We'll likely gain a clearer picture when the FX show debuts on September 4.
(Via Deadline)