Ahead of showrunner Kurt Sutter and company taking over Hall H for San Diego Comic-Con's Mayans M.C. panel, FX released the show's first trailer, which showed that the Godfather-esque theme still runs through the Sons of Anarchy universe, despite the new show taking place in a post-Jax Teller world. Speaking of which, the panel held few new tidbits (while opting to show some footage of a drug run), but lead actor J.D. Pardo (shown far right, above) did let fly a morsel that revealed exactly how green Charlie Hunnam was as Sons began production.
It's a real doozy. On the first day of Sons filming, Hunnam actually dropped his bike on the streets of the fictional Charming, California. Though I'm no biker, this is apparently is a common occurrence as riders learn the ropes and, and many have it happen at least once, but it's nonetheless an embarrassing thing. So as Pardo revealed, whenever it happened to a Mayans M.C. star as filming got underway, the set regarded these actors as being "in good company." Let's just hope that, whatever happens with this new show, no character commits what could arguably be described as this ultimate (intentional) bike drop…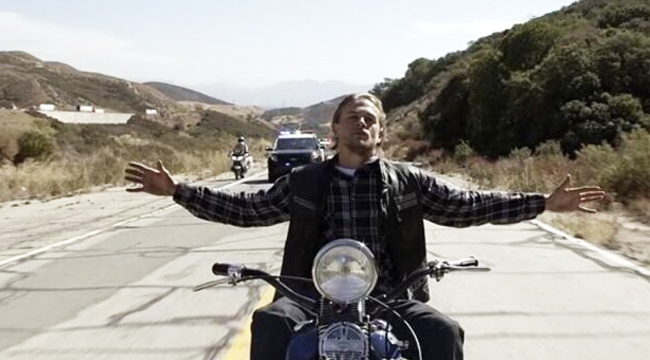 Elsewhere within the Comic-Con panel, Sutter revealed that the show will feature several "strong female characters," although it's clear that the M.C. itself has taken center stage (so far) within the show's promotional blitz. According to Deadline, Sutter also promised a future "intersection" of sorts between Mayans M.C. and Sons, although he wants to be careful about doing so, because he doesn't "want to fuck with" the fans. And although Sutter knows that fans want a crossover, he says that his priority "for now, [is to] keep it sacred."
Here's a (poorly lit) video showing the cast backstage after their Hall H debut.