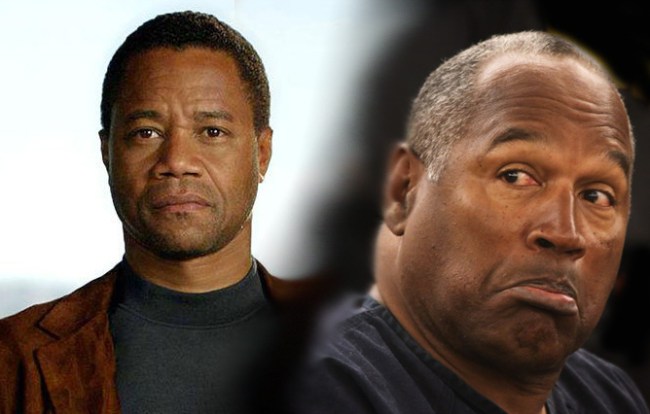 Just to recap, the family of Ron Goldman is not happy about American Crime Story: The People v. O.J. Simpson. Neither is Mark Fuhrman, nor the Juice himself. Now another person involved in the real O.J. Simpson trial is speaking out — the courtroom sketch artist.
The Chicago Tribune has a long-ish profile on Bill Robles, who was the courtroom sketch artist during the Manson trial, and also sketched Patty Hearst, Michael Jackson, the Menendez brothers, and the Night Stalker. During the Simpson trial, he sketched O.J.'s face day in and day out. This is what struck him about Simpson:
"When I first saw O.J., I couldn't believe how big he was," Robles recalls of his initial in-person encounter at the 1995 double-murder trial. "What a huge guy. That was my first impression — how easily he must have taken out those two people, especially when he jumped out at them."
So Cuba Gooding Jr., who has a significantly smaller build than the real O.J., doesn't fit the bill. Robles calls him "miscast." He does, however, approve of Sarah Paulson as Marcia Clark, Joseph Siravo as Fred Goldman, Nathan Lane as F. Lee Bailey, David Schwimmer as Robert Kardashian, and Courtney B. Vance as Johnnie Cochran.
However, Simpson's casting, as well as John Travolta's casting as Robert Shapiro, is "very distracting." Robles speculates, "It's as if they said: 'Who can we get who doesn't look (at all) like Shapiro? How about Travolta?'"