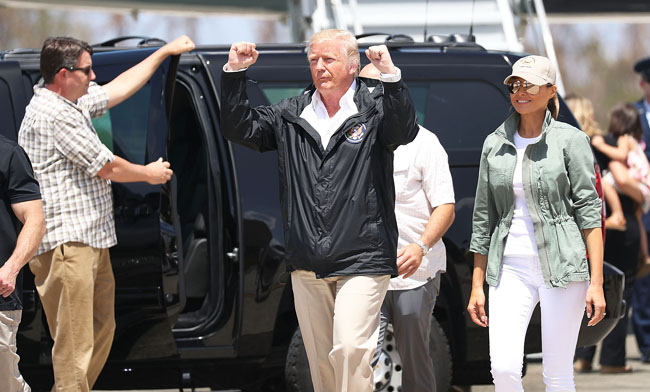 President Trump visited the hurricane ravaged United States territory of Puerto Rico on Tuesday, after a weekend spent sniping at San Juan Mayor Carmen Yulín Cruz on Twitter for having the nerve to ask for federal aid to help save her people. Trump's visit was every bit the uncomfortable, glorified photo op we've come to expect from the 45th president, who "joked" at a press conference that Puerto Rico has "thrown our budget a little out of wack," and that the crisis wasn't that big of a deal when compared "a real catastrophe like Katrina."
During his visit, Trump also swung by an event for survivors of Hurricane Maria at the Calvary Chapel in Guaynabo, Puerto Rico, to help hand out supplies to those affected, and of course bizarre photos and video were captured of him awkwardly throwing rolls of paper towels out into the crowd like a shopping mall Santa Claus tossing out candy to kids.
At one point, the president also told another survivor to "have a good time" like someone was out to bust out a frozen margarita machine or something.
Predictably, Trump's visit and paper towel toss was lambasted on Twitter, because this is yet another day in 2017.