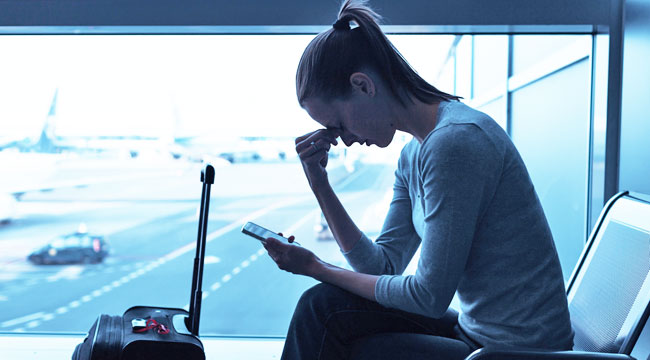 The American Civil Liberties Union and Electronic Frontier Foundation have filed a lawsuit against Homeland Security, alleging numerous illegal searches of electronic devices without warrants. The suit lays bare a disturbing country-wide trend that oversteps travelers' privacy and the boundaries of the Fourth Amendment. Even worse, though this suit has only 11 plaintiffs, this is happening far more often than you think.
ACLU attorney Esha Bhandari explained:
"The government cannot use the border as a dragnet to search through our private data. Our electronic devices contain massive amounts of information that can paint a detailed picture of our personal lives, including emails, texts, contact lists, photos, work documents, and medical or financial records. The Fourth Amendment requires that the government get a warrant before it can search the contents of smartphones and laptops at the border."
Unfortunately, Customs and Border agents haven't been waiting to get warrants, but they have made plaintiffs wait months to get their confiscated electronics back. One party has been without their devices since January. The warantless searches have not only taken the form of actual confiscation, but also of agents demanding the passwords for laptops and smartphones to search them on the spot.
The individuals included in the lawsuit are students, entrepreneurs, artists, journalists, veterans, and even a NASA engineer. Most are U.S. citizens, but one is a Haitian man who is a legal permanent U.S. resident. For the most part, the plaintiffs had been conducting scholarly research, making a business trip, or visiting family in countries including Canada, Sweden, and Belgium. The airports and checkpoints at which this complaints occurred were throughout the United States, including San Francisco, Dallas, Denver, and the Canadian border.
That suggests a worrisome trend throughout the whole Homeland Security department, and a marked uptick in aggressive policies since the Trump administration began. Indeed, the Alasaad v. Duke complaint notes,
"The number of border searches of electronic devices by CBP and ICE has been growing rapidly. According to CBP data, CBP conducted 14,993 electronic device searches in the first half of fiscal year 2017, meaning that CBP is on track to conduct approximately 30,000 searches this fiscal year, compared to just 8,503 searches in fiscal year 2015."
That's a 76% increase this year, and we're only nine months in. If the ACLU's projection of 30,000 searches proves right, that will be an increase of almost 253% over two years. That should worry anyone taking to the friendly skies, whether you have an important project on your hard drive or a beach read on your tablet.
(Via ACLU)