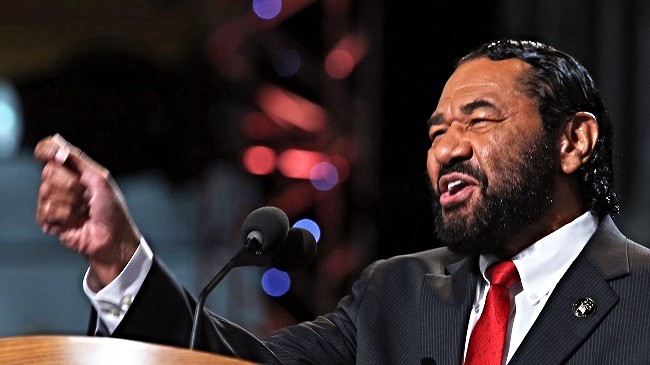 Rep. Al Green has spoken at length about impeaching President Trump. In May, the Texas Democrat passionately explained to the U.S. House, "We are talking about a president who fired the FBI director who was investigating [him] for his connections to Russian involvement in the presidential election." Five months later, Green unveiled articles of impeachment against Trump on the House floor in an effort to force a vote to determine whether or not he should be removed from office. Trump's presidency, Green argues, "is fueling an alt-right hate machine… causing immediate injury to American society."
"I rise today on behalf of the many who have concluded that enough is enough," Green told the House, which previously witnessed Rep. Brad Sherman's (D-California) single article of impeachment against Trump in July. Sherman's article failed, as he and Green were its only supporters. The Texas representative's measure will likely do no better, though Green's multiple articles include a greater number of complaints against the president:
In his articles of impeachment, Green cited Trump's equivocating response to the violence at a white supremacist rally in Charlottesville, Va.; attacks on NFL players kneeling during the national anthem to protest police brutality; and since-debunked accusations that former President Obama ordered a wiretap of Trump Tower as examples of how Trump has "undermined the integrity of his office" and "brought disrepute on the presidency."
Seeing as how House Republicans maintain a sizable majority of 240 active members to 194 Democrats, Green's articles of impeachment will likely be tabled. What's more, they were introduced to the floor as "privileged," which means the House must contend with them in two legislative days or less. This doesn't give Green much time to bolster a lot of (if any) support for his measure. Even so, should the articles be tabled, the resulting procedural vote "will serve as the first formal referendum on impeachment" during Trump's presidency.
(Via The Hill)