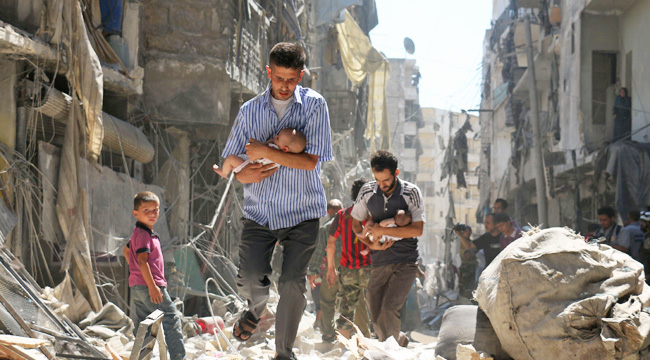 The situation in Aleppo continues to deteriorate as a ceasefire brokered by Turkey and Russia in Eastern Aleppo has broken down a mere day after it was agreed upon. CNN reports that both Turkey and activist groups have accused the Syrian regime of further bombardment, as evacuations in the country are at a standstill.
The ceasefire was brokered in the hopes of evacuating civilian and rebels from a small pocket in eastern Aleppo, but that agreement quickly dissolved. Approximately 50,000 people are still believed to be trapped in that part of the city, but witnesses said the evacuation process, even if enacted, may take longer than anticipated. Medic Aref Al-Aref said people were hopeful they would be departing the area but are now fearful about leaving their homes. Forensic medicine specialist Abo Ka'afar mirrored that sentiment, telling CNN that conditions in the city are dire:
"The injured are lying on the ground. The dead are on the ground. There are no cars or anything to save them. The shelling is continuing. The people are getting injured and there is no one to save them. Oh people, we beg you, we beg you, we beg you."
While some have argued the cause for the broken ceasefire was due to further bombardment and shelling, CNN could not verify those claims. The International Committee of the Red Cross has declared that it's "on standby" if the ceasefire should return.
(Via CNN)