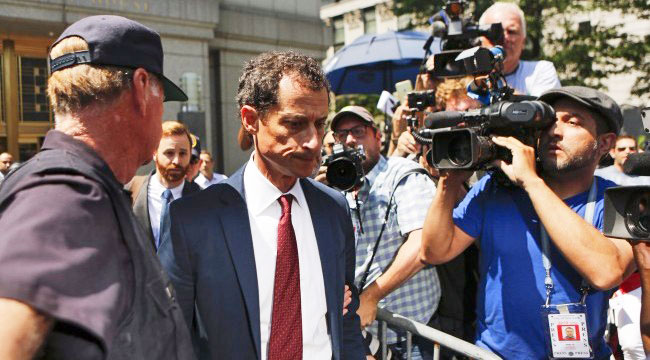 In May, former New York congressman Anthony Weiner pleaded guilty to an obscenity charge for exchanging lewd messages with a teenager. Weiner's latest sexting scandal also became part of the 2016 election after investigators seized his laptop and found emails connected to his wife, Huma Abedin, from Hillary Clinton's private email server. As his sentencing approaches (the charge carries a ten-year max), Weiner and his attorneys have written to the judge presiding over the case in an attempt to keep Weiner out of prison.
After Weiner's guilty plea, the U.S. attorney said that it was seeking a sentence of around three years. However, Weiner's attorneys said that while his behavior was "inexcusable," sending Weiner to prison would hurt his recovery and ruin months of therapy. The lawyers chronicled his history of sexting between 2009 and 2016, and it wasn't until he was caught sexting a teenager did the full impact of his "deep sickness" became apparent to him:
Mr. Weiner, 53, writing separately to the judge, cited his "profound" regret for endangering the well-being of the girl, whom he understood to be 15.

He added, "My continued acting out over years crushed the aspirations of my wife and ruined our marriage." And, he said, his young son "will forever have to answer questions about the public and private failings of his father."
Huma Abedin, who is seeking a divorce, wrote to the judge as well, saying that she is "devastated by Anthony's actions" and understands "he must face their consequences."
Weiner's sentencing hearing is scheduled for federal district court in Manhattan for September 25.
(Via New York Times)