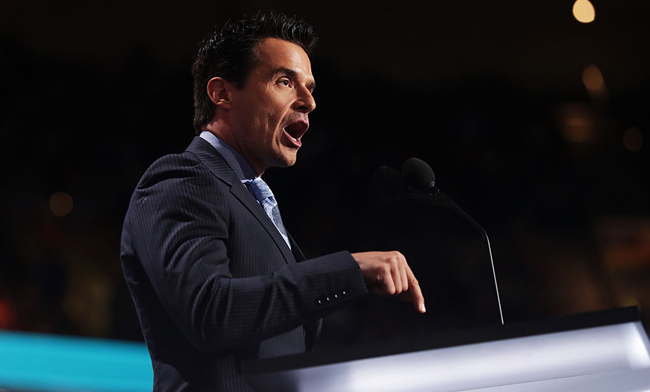 Now that he's supposedly been "blacklisted by Hollywood for supporting Trump," soap opera star Antonio Sabato Jr. is doing what seems to make the most sense for an actor unable to find work in 2017 — run for office. Today, the former Calvin Klein model and Melrose Place actor made the announcement that he would be running as a republican against incumbent democrat Rep. Julia Brownley, who represents most of Ventura county in southern California.
No, this isn't just some way to garner attention, it's real. Sabato Jr. even filed paperwork with the Federal Election Commission. It seems like he caught the political bug when he spoke at the Republican National Convention last year.
Charles Moran, Sabato Jr.'s top fundraiser, is already out and about, preparing for what will likely be a confusing and entertaining campaign. He told CNN: "Brownley is a very junior member in the minority party. Contrast that against Antonio Sabato Jr., you have somebody who is a member of the majority party who has good relations with the Trump administration."
Moran echoed his belief that Sabato will probably be able to win this seat to the LA Times:
"Being a Republican and with proximity to the White House and Republican leadership, he's going to be able to get more done — being in the majority, with his notoriety, for the residents of the 26th [Congressional] District."
How else do we know he'll be a good fit for office? He can point sternly in front of a big screen and look intense. Something Trump probably values greatly in an ally.