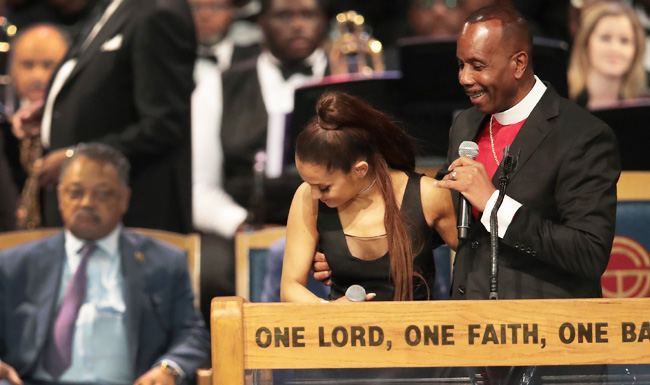 The life of legendary singer and songwriter Aretha Franklin was celebrated in her home city of Detroit on Friday, after the Queen of Soul sadly left this plane of existence on August 16 at age 76, reportedly due to advanced pancreatic cancer. Her funeral was a star-studded affair, attended by former presidents Barack Obama, George W. Bush, and Bill Clinton. It also featured performances from some of music's greats such as Stevie Wonder, Jennifer Hudson, and Ariana Grande — the latter of whom sang one of Franklin's trademark hits, "(You Make Me Feel Like) A Natural Woman."
Following Grande's performance, she was joined onstage by Greater Grace Temple Bishop Charles Ellis, who awkwardly put his arm around the pint-sized singer and — maybe or maybe not accidentally — rested his hand on her right breast. Grande's body language made it clear that she was visibly uncomfortable with the contact, as she could be seen leaning away from him.
Many took to Twitter to jump to Grande's defense — especially in light of the criticism she received for performing in a short dress.
Since footage of the so-called groping went viral, Bishop Ellis has since apologized for the incident. "It would never be my intention to touch any woman's breast," he later commented. "Maybe I crossed the border, maybe I was too friendly or familiar."
He added that he hugged all of the artists who had performed, both male and female. "Everybody that was up, I shook their hands and hugged them," he added. "That's what we are all about in the church. We are all about love."
He wasn't finished there, however, as his unfortunate joke about Grande's name (as seen in the above video) also became the subject of outrage among Latinos. "When I saw Ariana Grande on the program, I thought that was a new something at Taco Bell," he joked at the time.
"I personally and sincerely apologize to Ariana and to her fans and to the whole Hispanic community," he likewise expressed.
Since the controversy broke, many people have been retweeting an old tweet of Grande's, in which she expressed that sexy clothing, personalities, or music was not an open invitation.
Whether or not the touch was intended, the bishop seemingly learned this lesson the hard way.
(Via BBC)