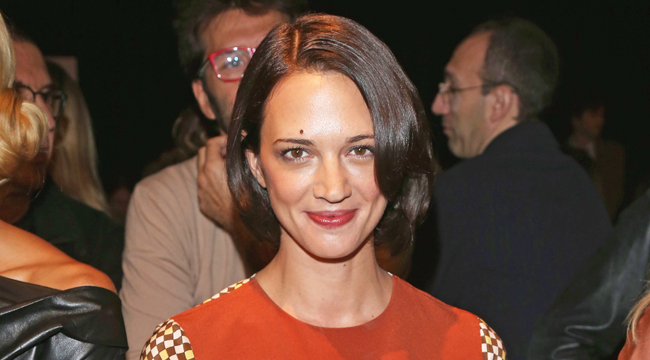 The fallout from the New York Times' report about former child actor Jimmy Bennett's 2013 sexual assault claim against Asia Argento (noted Harvey Weinstein accuser) has taken several turns. Not only has Argento taken a career hit, but there's also the chance that she'll face legal repercussions, given that it's a crime for an adult to have sex with anyone under age 18 (he was 17, and she was 37 at the time). Earlier this week, Rose McGowan distanced herself from Argento while explaining that their mutual friend, non-binary model Rain Dove, had turned over text messages about the case to police. The model is now speaking to a number of outlets about the decision to do so.
Those text messages somehow made their way into TMZ's hands. The outlet published them, which revealed multiple inconsistencies in Argento's story. Rain Dove doesn't know who leaked the messages to media outlets, but when the model and McGowan told Argento that the police would see the texts, Argento called Rain Dove "a monster," according to CNN, to which Rain Dove further stated, "I did not want to be complicit in something that could be a crime."
The model also spoke at length with Fox News with Rain Dove saying that Argento first insisted that she was innocent. And the model wanted to help Argento "clear her name," but then the story began to change, and Rain Dove realized something was seriously amiss with Argento's account:
"It became increasingly apparent that this individual was not only, not telling the truth, but that they didn't intend on ever telling the truth to the public.

"By the end of it, we went from, 'Never slept with anyone and did not do anything' to 'I slept with this person. I've received nude images from them for years and didn't report them and/or asked them to stop, and I've continued my communications with this person in a sexual manner.'"
Rain Dove elaborated more to Fox News about Argento's "monster" accusation:
"I spoke to [Argento] after the texts got leaked, and she was convinced Rose and I had leaked the text messages, but of course, in fact, we did not. I told her that, 'I have to be honest with you, I brought them to the police.' She said that I'm a monster. I just told her that in order for there to be justice, there has to be truth, and that justice will find its way, but you have to have truth on the table, and she was really angry at that."
Argento hasn't spoken publicly on the accusations for over a week, which is when she denied the sexual assault accusation while claiming that Anthony Bourdain paid Bennett the $380,000 settlement for publicity-related reasons. There's still no word on who leaked the legal documents of the settlement to the New York Times.
In addition, Rain Dove told Today that there was "no choice" but for those text messages to go to police. The model further stated, "I'm not anti-Asia or anti-anything. I just believe Jimmy Bennett deserves to have justice and I believe that due process deserves to have it." Rain Dove has also released a longer statement on Twitter, which you can read below.
https://twitter.com/raindovemodel/status/1034797358574387200/
(Via Fox News, Rain Dove on Twitter & Today)