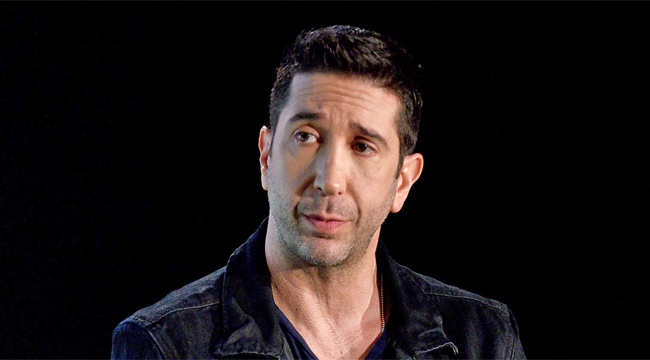 In the post-Harvey Weinstein climate, some Hollywood men are joining women against hostile workplaces and sexual misconduct with a new movement. This new effort, of course, arrives alongside the #MeToo initiative, which began on social media last fall when thousands (upon thousands) of women shared sobering stories of sexual assault and sexual harassment by men in power.
With this weekend's Academy Awards, the issue is expected to be at the forefront of many red-carpet interviews and ceremony speeches. Weinstein himself has been put on blast with a gold "Casting Couch" statue to immortalize his disgrace, and a number of male stars are publicly coming together against such abuses of power. Among them are David Schwimmer, David Arquette, and Matt McGorry, who not only acknowledge the "awe" they feel for the women who came forward but also want to take things further, i.e., #AskMoreOfHim. Deadline published the group's statement, which reads in part:
As men, we have a special responsibility to prevent abuse from happening in the first place. After all, the vast majority of sexual harassment, abuse, and violence is perpetrated by men, whether in Hollywood or not. And in entertainment — like many industries — men continue to hold most of the decision-making power. Therefore, one of the most powerful things that men can and must do is make it clear to other men — including their friends, colleagues, and co-workers — that sexual harassment and abuse are never acceptable. This goes for everything from sexist and degrading comments, right up to domestic violence and sexual assault.

Some may question our motives for signing this statement and we aim to counteract their skepticism by being painfully honest. Men are imperfect. We are imperfect. And many men, including perhaps some of us, may have enabled the bad behavior of others or acted in ways we now regret. Nonetheless, we believe that men must speak out against sexism, even as we engage in our own process of critical self-reflection, personal growth, and accountability.

So consider this our pledge to support survivors, condemn sexism wherever we see it, and hold ourselves and others accountable. As advocates, actors, writers, producers, and directors, we hope that our actions will inspire other men to join us. Until now, only a small number of them have been actively engaged in this effort. This must change. It's time we #AskMoreOfHim.
The full listing of signatories can be viewed here. They are joined by multiple organizations, including A Call to Men, Futures Without Violence, and The Representation Project. On Twitter, Jessica Chastain has declared that she's "so moved" by this new movement and hopes to see it grow.
(Via Deadline)