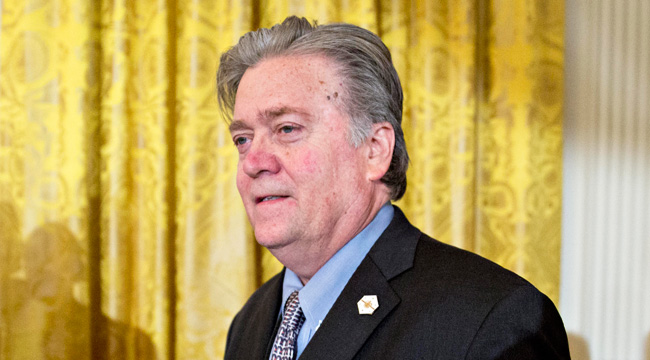 The extent of Russia's abuse of Facebook in the 2016 Presidential election is still being determined, though the picture is becoming clearer. No matter its extent, Facebook giving an assist to right-wing politics is something a lot of right-wing people aren't really prepared for, since Facebook is seen as a liberal bastion (COO Sheryl Sandberg donated to Hillary Clinton's campaign). Case in point: prior to taking over the Trump campaign, Steve Bannon played with the idea of planting a Breitbart mole at the social media company.
According to email records acquired by Buzzfeed, Bannon was clued into a job-opening for a "DC-based Public Policy Manager" by former congressional staffer Chris Gacek, who now works for the Family Research Council, an anti-abortion and anti-LGBT rights lobbying group. Bannon then forwarded the email to Milo Yiannopoulos, the right-wing troll and former Breitbart staffer.
The plan, it appears, was to "flood the zone" with job candidates to prove that Facebook's hiring process was biased against conservatives and part of a larger systemic bias at Facebook and Silicon Valley as a whole. However, the plan may have been abandoned after all parties involved realized how much of a challenge inundating a tech company with conservative job candidates would be "to do quietly," especially "candidates with law degrees and 10 years of public policy experience." Here's more:
Facebook did not provide a comment for the story. But according to a source with knowledge of the hiring process, WhatsApp didn't exactly get infiltrated by the pro-Trump right: The company hired Christine Turner, former director of trade policy and global supply chain security in President Barack Obama's National Security Council, for the role.
The emails are dryly similar to prank emails sent to Bannon associates, shedding some light on how those pranks were so successful.
The Breitbart contingent might soon take aim at Facebook again. In recent public comments after his return to Breitbart, Bannon has said that he is leading efforts to regulate Google and Facebook.
(Via BuzzFeed News)