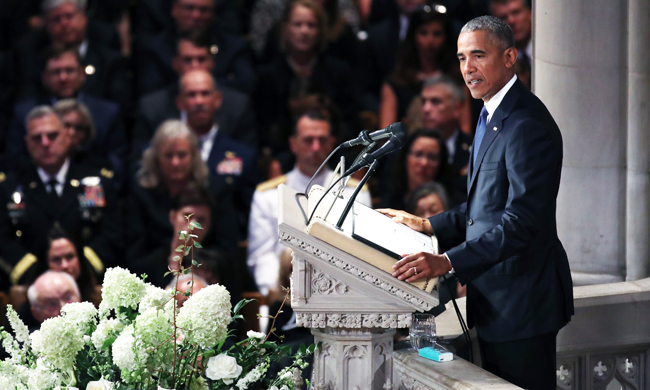 Bipartisan leaders from across the nation gathered in Washington D.C. on Saturday to pay final respects to the great Arizona Senator John McCain — war hero, tireless public servant, husband, and father. Of course, the funeral was palpably missing one prominent public figure: President of the United States Donald Trump. This is mostly because, after being disrespected by the former Apprentice host time and time again, McCain made sure before his passing to make it clear what Trump was unequivocally not welcome to the service.
Now if there's one thing Trump hates, it's being excluded. If there's another thing Trump hates however, it's former President Barack Obama, whose class and eloquence while he was in office is often seen as a stunning polar opposite to Trump's own presidency.
So it probably won't get under the Trump's skin too much that Barry took some low-key digs at him, while he instead spent the day at one of his golf clubs in Virginia.
Oh, and by saying it wouldn't get under his skin we mean that he's probably going to turn the color of a tomato when he finds out.
The money quote is below:
So much of our politics, our public life, our public discourse can seem small and mean and petty, trafficking in bombast and insults, and phony controversies, and manufactured outrage. It's a politics that pretends to be brave and tough, but in fact is born of fear. John called on us to be bigger than that. He called on us to be better than that.
Obama's sentiments echo those of the senator's own daughter Meghan McCain, who honored her father by reminding everyone that "the America of John McCain has no need to be great again because America was always great," which she delivery with fiery candor.
You can watch Obama's eulogy in full below:
(Via CNN)