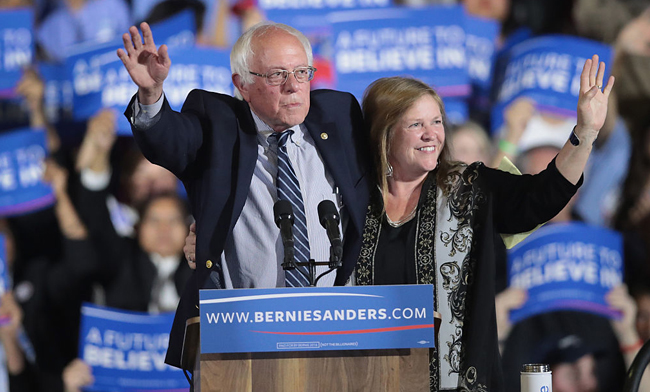 After months of murmurs surrounding alleged bank fraud, the FBI investigation into a $10 million loan took out by Jane Sanders while president of Burlington College has come to a head. Sanders and her husband, Vermont Senator Bernie Sanders, have hired multiple prominent defense attorneys.
The investigation stems from a January 2016 complaint by Brady Toensing, who was Chairman of Donald Trump's Vermont campaign. Toensing alleges that Jane Sanders falsely inflated the ability of donors to pay back the loan which would purchase 33 acres of land to expand Burlington College. Specifically, the complaint alleged that Sanders "successfully and intentionally engaged in a fraudulent scheme to actively conceal and misrepresent material facts from a federal financial institution." In 2016, the college closed its doors for good after being debt-ridden for years.
Possibly due to who initiated the first steps into the federal investigation, Bernie Sanders called it "nonsense" and stated that Toensing is: "Somebody who does this all of the time, has gone after a number of Democrats and progressives in this state." Politico noted Toensing's response, which was that the investigation was started in 2016 under then-President Obama, his Attorney General Loretta Lynch and his U.S. Attorney, "all of which are Democrats."
Politico broke the news of the Sanders' lawyering up with a number of high-powered attorneys amidst reports that investigators may be looking into allegations that Senator Sanders inappropriately urged the bank to give his wife's school the loan. Burlington lawyer and stout Sanders supporter Rich Cassidy has been hired to represent the Senator, and Larry Robbins, who counseled Dick Cheney's former Chief of Staff I. Lewis "Scooter" Libby has reportedly been hired for Jane Sanders.
Jeff Weaver, the Senator's top advisor, told CBS News that "the loan was approved by the financial board at the college" and Toensing's claim Senator Sanders used his influence to pressure a bank into giving the loan was a "political charge" which is "baseless."