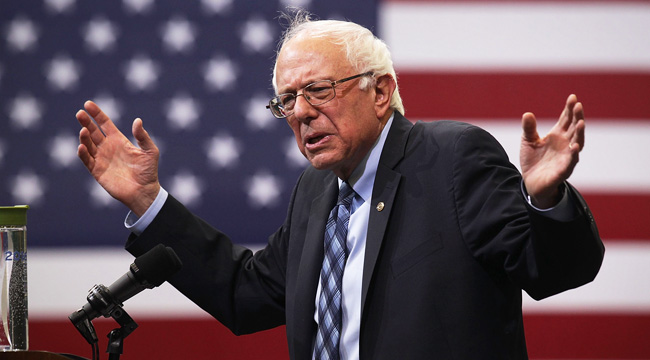 Bernie Sanders (obviously) lost the Democratic nomination to Hillary Clinton last year, but the Vermont senator left the race in a more powerful position. He was tasked with helping to transform the party with a more progressive slant and an eye toward 2020, and along the way, he's been challenging Trump appointees and generally serving as a firebrand for the liberal cause. Well, Sanders is also taking some time to condemn threats made against right-wing cheerleader Ann Coulter, which resulted in the cancellation of her upcoming speech at University of California at Berkeley.
Coulter responded to her axing by insisting that she'll still give her speech and even challenged campus security to "arrest" her in the process. Bill Maher then defended Coulter's right to free speech, and Sanders also feels the Bern even while acknowledging that she'd deliver a sure-to-be-divisive speech. He spoke with the Huffington Post:
"I don't like this. I don't like it. Obviously Ann Coulter's outrageous — to my mind, off the wall. But you know, people have a right to give their two cents — worth, give a speech, without fear of violence and intimidation."
Sanders continued to express his belief about how shutting down her speech would work no progress. Instead, he feels that liberals should challenge her with tough questions and basically allow her to talk herself into a corner:
"To me, it's a sign of intellectual weakness. If you can't ask Ann Coulter in a polite way questions which expose the weakness of her arguments, if all you can do is boo, or shut her down, or prevent her from coming, what does that tell the world? What are you afraid of — her ideas?"
Perhaps Sanders — who clearly makes some solid points — will be able to convince some of his ardent followers to stand down and see Coulter's troll-like ways in a different light. She often speaks in a self-defeating manner, and Sanders knows this, so he'd prefer that she be allowed to do so.
As for Berkeley campus officials, they acted in response to the threats from a security standpoint. They hoped to avoid the violent protests that accelerated and led to the last-minute cancellation of Breitbart troll Milo Yiannopoulos' planned February appearance. Berkeley has also been the site of several brutal scuffles, the most recent of which saw anti-Trump and pro-Trump groups toss punches and draw blood.
(Via Huffington Post)