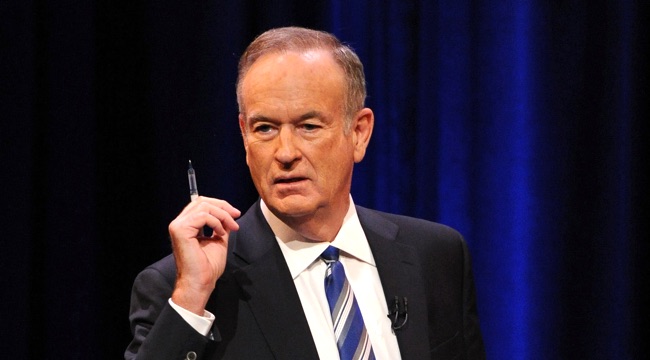 Bill O'Reilly, ousted from Fox in April, has had a heck of a time trying to find a new place to perch. His talent agency just dropped him, and Fox is getting flack for renewing his contract even after his vast $32 million settlement that he paid out to an alleged victim of his sexual harassment. Even those months of rumors that O'Reilly might join Sinclair Broadcasting, as it turns out, were founded not in any offer from the network but rather in O'Reilly's wishful thinking.
That news comes from The Street reporter Leon Lazaroff, who says that Sinclair CEO Chris Ripley indicated that O'Reilly was the one to inquire about the possibility of being hired, only to be rebuffed. "He did approach us," explained Ripley. "But we do not have any interest in hiring him."
Ouch. Sinclair doesn't exactly have the sunniest reputation itself, ever since John Oliver spent part of Last Week Tonight summing up Sinclair's strategy, along with parent company Tribune Media, to snap up local news stations and give them a more conservative, far-right bent. You'd think they'd at least consider O'Reilly as a Fox News alum, but apparently, he's too controversial for them.
At this point, Bill O'Reilly could convincingly deliver that monologue from Ed Wood, the one where Bela Lugosi riffs on Bride of the Monster with the line "Home? I have no home. Hunted, despised, living like an animal!" He has opined in the past that he should have fought harder to save his advertising sponsors and his career, a la Sean Hannity. But it seems that O'Reilly's subscription-only podcast is his home, now. And it seems it will be for some time, considering the general reluctance of outlets to bring him on board.
(Via Raw Story & Leon Lazaroff)