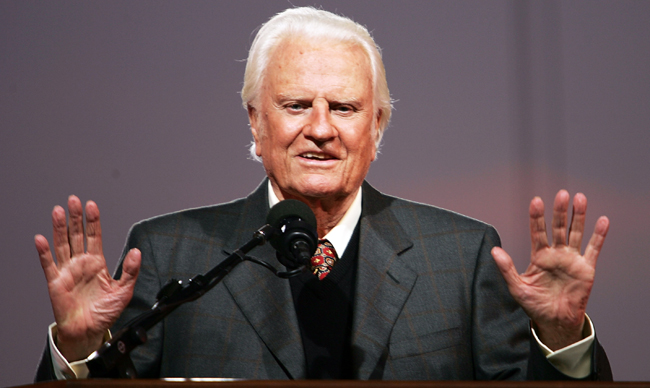 Billy Graham, an ordained Southern Baptist minister and one of the world's most well-known Christian evangelists, has passed away at 99-years-old at his home in Montreat, North Carolina, early on Wednesday morning, according to spokesperson for the Billy Graham Evangelistic Association. Often referred to as "America's pastor," Graham gained international notoriety around the turn of the 20th century for his large indoor and outdoor sermons, which were broadcast on radio and television in the Unites States and abroad.
Over the course of his long, 60 year career, Graham provided spiritual counsel for every president from Harry Truman to Barack Obama. Of his relationships with the various commanders-in-chief, Graham once said, "Each one I've known long before they ever became president, been in their homes many times; always called them by their first names, until they became president."
He was also friends with Martin Luther King Jr., whom he invited to preach with him at a New York City revival in 1957. Graham also bailed King out of jail when he was arrested in civil rights demonstrations in the 1960s.
The world famous preacher had been diagnosed with Parkinson's disease in 1992, and he retired not long after, making only a handful of public appearances in the last 15 years of his life. Due to his declining health, Graham had turned his international ministry over to his son, Franklin Graham.