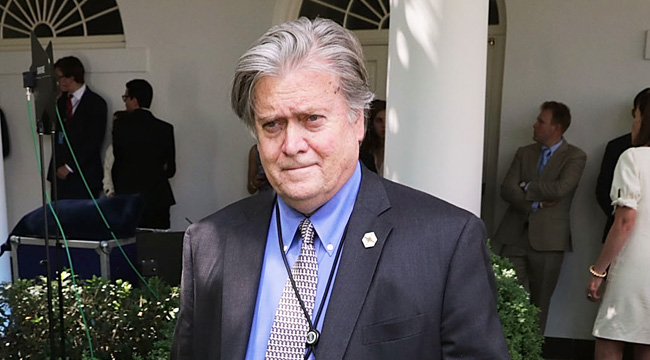 Following his dismissal from the White House and triumphant return to Breitbart News, it's not been clear what exactly Steve Bannon has in store for his next act. Is he going to hashtag war? Is he going to rally to impeach Trump if the president cucks his base? Is he going to start a cable news channel that makes Fox News look like PBS NewsHour? We'll find out soon, surely, but in the meantime, an email prankster posing as Bannon tricked some high-ranking Breitbart editors into agreeing to take down Jared Kushner and Ivanka Trump.
The emails were shared with CNN by the prankster and feature Breitbart Editor-in-Chief Alex Marlow pledging that "he and several other top editors would do Bannon's 'dirty work' against White House aides."
Marlow further told the fake Bannon that he could have Kushner and his wife out of the White House by the end of the year before sharing "a personal smear about their private lives, perhaps an indication of how low the website is willing to go to achieve its agenda." CNN did not publish what the content of that smear was.
Marlow, when contacted by CNN, said that the emails were no different than the type of things Breitbart publishes. "If people want to know our thinking, they don't need to judge us on illicitly obtained comments that were intended to be private, they can simply read our front page," Marlow wrote.
In other emails, other Breitbart staffers email with the fake Bannon and question why he isn't answering his phone:
The prankster told CNN that the latest stunt was inspired by Bannon's ouster and how Breitbart was "literally falling over itself to attack those he sat drinking coffee with days before."

"It all seemed very duplicitous and littered with nuance and righteousness," the prankster said. "I don't much care for the Trump administration or Breitbart so I didn't really do much but see what happened."
According to CNN, after learning about the deception, Breitbart president and CEO Larry Solov warned staffers on Slack that they should ignore the fake Bannon.
(Via CNN)