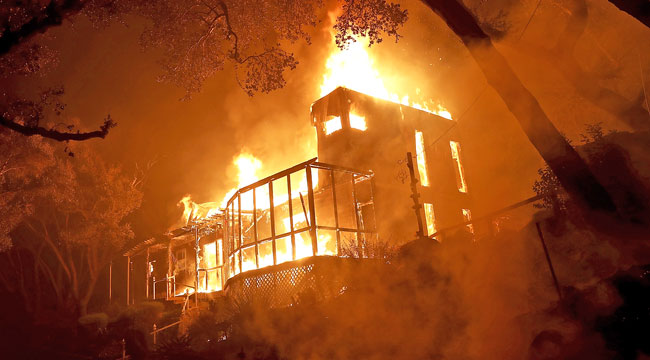 Although the six blazes consuming Southern California have faded from national news coverage, the Santa Ana winds are still causing flames to churn up brush and ash on a largely uncontained basis with no clear end in sight. CNN reports that the fires have now destroyed over 1,000 structures, and the Thomas fire remains the largest of the bunch and is still only 20% contained despite thousands of firefighters devoting a week to battling the flames.
This particular blaze, which now stretches from east of Ojai and Santa Paula all the way to the Pacific Ocean, has gobbled up over 230,000 acres as of Monday night, which qualifies it as the 5th largest wildfire in California state history. Along with continuing winds that can carry embers for over a mile, the Santa Barbara terrain — complete with canyons and dry air — prevented fire crews from tackling the inferno head on from the beginning, per the LA Times:
"It's really steep," said Tim Chavez, a battalion chief and fire behavior analyst with the California Department of Forestry and Fire Protection. "The ridges don't go anywhere. There's no place where you can put a dozer on it and connect it to anything."

"A big percentage of firefighting success is being in the right place with the right resources when the fire squats and doesn't move for a couple of days and you can jump on it. This fire has not done that," Chavez added. "It's on the move north, east, west."
As such, firefighters have played a largely defensive game while waiting for the Thomas fire to approach lower foothills and residential areas of Ventura County and Carpinteria — after the blaze had grown into a mammoth. Chavez notes that it would now take a "miracle" for the fire to begin calming down before the 20th, which will bring increased humidity and perhaps some rain.
Santa Barbara County Fire spokesperson Mile Eliason expressed a similar sentiment to Chavez while talking about the pros and cons of new breezes:
"It's still not great. It's bad, but it's a better bad … You want the breeze to clear the air, but you don't want the breeze to fuel the fire. Hope springs eternal. Every day we're going to hope that this progressing and getting closer and closer of being put to bed. But right now we're going to need some rain and the long range forecast doesn't show that."
Indeed, conditions are now slightly better for fire crews, but the Thomas fire is gargantuan, and with wind gusts continuing up to 40mph and low humidity still prevailing, California may have a fiery Christmas in the cards this year.