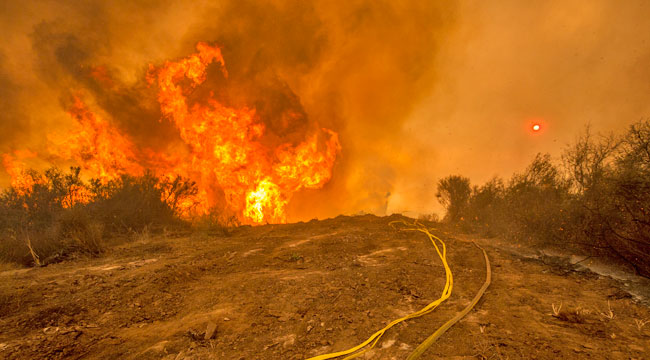 This weekend, California Governor Jerry Brown warned residents that the half-dozen mostly uncontained wildfires in the southern part of the state may be indicative of a "new normal" that could soon repeat itself each year. As for the current disaster, the Santa Ana winds and a lack of humidity will continue to dominate and possibly claim more lives with no clear end on the horizon. The biggest blaze, the Thomas fire, is now wreaking havoc on an even greater scale.
CNN reports that the total number of acres burned by all of the current fires is fast approaching the 200,000 mark. NBC News adds that of that total, the Thomas fire has claimed 173,000 acres. The blaze even stretched to the Pacific Ocean, and a Sunday flare-up will soon push it further into Ventura and Santa Barbara counties while only being about 15% contained, which has led to additional evacuation orders:
The Santa Barbara County Sheriff issued evacuation orders on Sunday for the area spanning Buena Vista Dr. to Toro Canyon Road from SR-192 north to Camino Cielo. Evacuation warnings for parts of Montecito, Carpinteria and Summerland were also expanded on Sunday..
This video clip shows the Thomas fire pushing into Carpinteria on Sunday.
#ThomasFire – FF's knock down flames as they advance on homes atop Shepherd Mesa Road in Carpinteria at 6 am Sunday morning. pic.twitter.com/kXn8lGi3AM

— SBCFireInfo (@EliasonMike) December 10, 2017
Altogether, the current fires have destroyed over 800 structures, and the Santa Ana winds are currently gusting at up to 60 mph. To further complicate matters, no rain is expected in California for up to two weeks. That reality means that firefighters will likely be battling these blazes through Christmas, if not longer.
(Via NBC News, CNN & Pacific Standard)