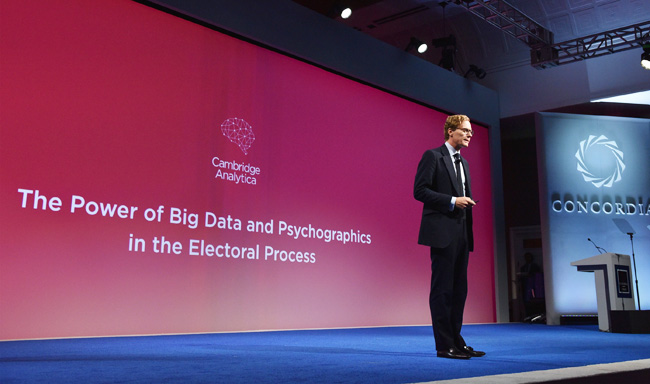 Newly revealed reports have uncovered exactly how a data firm exploited Facebook info from millions of people in order to help sway the 2016 presidential election. Cambridge Analytica, a tech company owned by the hedge fund billionaire and right-wing donor Robert Mercer, reportedly harvested private information from the Facebook profiles of more than 50 million unsuspecting users without their permission to help sway the American electorate to vote for Donald Trump. At the time, the operation had been headed by Steve Bannon, who has since parted company with Mercer.
Christopher Wylie, a Cambridge Analytica co-founder who worked there until late 2014, has come forward to expose the unscrupulous practices of his former employer. "Rules don't matter for them. For them, this is a war, and it's all fair," Wylie told the New York Times in a new bombshell report. "They want to fight a culture war in America. Cambridge Analytica was supposed to be the arsenal of weapons to fight that culture war."
Speaking with the Observer, Wylie gave a particularly nefarious soundbite as to how the company exploited Facebook users data against them:
Christopher Wylie, who worked with an academic at Cambridge University to obtain the data, told the Observer: "We exploited Facebook to harvest millions of people's profiles. And built models to exploit what we knew about them and target their inner demons. That was the basis that the entire company was built on."

Documents seen by the Observer, and confirmed by a Facebook statement, show that by late 2015 the company had found out that information had been harvested on an unprecedented scale. However, at the time it failed to alert users and took only limited steps to recover and secure the private information of more than 50 million individuals.
How did the firm acquire so much data from unwitting Facebook users? By coaxing some users into taking a "personality test."
The data was collected through an app called thisisyourdigitallife, built by academic Aleksandr Kogan, separately from his work at Cambridge University. Through his company Global Science Research (GSR), in collaboration with Cambridge Analytica, hundreds of thousands of users were paid to take a personality test and agreed to have their data collected for academic use.

However, the app also collected the information of the test-takers' Facebook friends, leading to the accumulation of a data pool tens of millions-strong. Facebook's "platform policy" allowed only collection of friends data to improve user experience in the app and barred it being sold on or used for advertising.
On Friday, Facebook suspended Cambridge Analytica and its parent company Strategic Communication Laboratories from the platform going forward. But they only did so after it became clear that reports would soon be published exposing what Cambridge Analytica had done. Further, a writer for the Guardian and Observer took to Twitter to say that Facebook threatened lawsuits in an attempt to suppress the story.
For what it's worth, Facebook posted a statement to its news blog, promising to take action.
"This was a scam — and a fraud," Paul Grewal, a vice president and deputy general counsel at the social network, said in a statement to The Times earlier on Friday. He added that the company was suspending Cambridge Analytica, Mr. Wylie and the researcher, Aleksandr Kogan, a Russian-American academic, from Facebook. "We will take whatever steps are required to see that the data in question is deleted once and for all — and take action against all offending parties," Mr. Grewal said.
As part of his investigation into the interference of the 2016 election, special counsel, Robert S. Mueller has demanded the emails of Cambridge Analytica employees who worked for the Trump team.
(Via New York Times / Guardian)