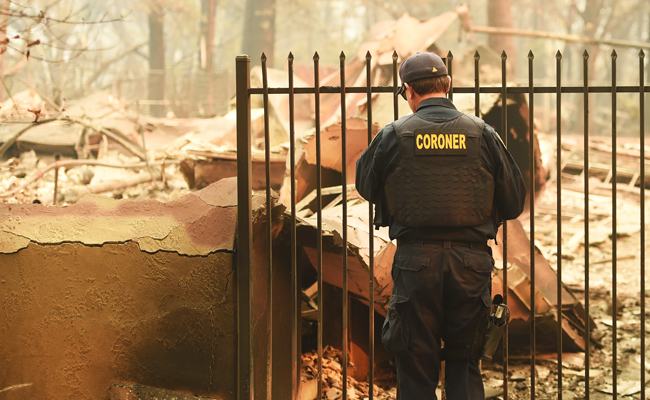 The death toll continues to rise in the state of California, where three separate wildfire have been ravishing the state since last week. The deadliest of those fires is the Camp Fire in Northern California, which has completely decimated the town of Paradise — once home to 26,000 residents — and the fire continues to rage at only 30 percent contained as of Monday night. Emergency workers have since discovered the charred remains of 42 people who were unable to escape the flames, and with at least 100 more unaccounted for that number is expected to rise:
Butte County Sheriff and Coroner Kory L. Honea said his office is bringing in additional resources to expedite the identification and processing of human remains, including 13 coroner search recovery teams, 150 search and rescue personnel, cadaver dogs, two portable temporary morgue units, and a rapid DNA system.
As many displaced evacuees attempt to return to their homes to see what, if anything is left, California Highway Patrol Chief Brent Newman is urging the public to stay patient so rescue teams can do their jobs. "It is not a safe environment whatsoever," he warned.
In Southern California, the Woolsey and Hill fires have displaced 170,000 residents in Los Angeles County, more than half of the 300,000 statewide total, with two casualties bringing the overall death toll to 44. As of Monday night the Woolsey Fire was just 30 percent contained and the Hill Fire was 85 contained, as much of the city of Malibu, still under mandatory evacuation orders, lies in complete ruin.
As rescue efforts continue in both the northern and southern parts of the state, people with harrowing escape stories have been coming forward to give an idea of just how terrifying it was getting swept up into the flames. Via CNN:
Resident Nichole Jolly said she thought her life was over as flames surrounded her car, filling it with smoke. Then, she called her husband, who urged her to run, she said.
"If you're going to die, die fighting," she said, tearfully recalling his words.

Outside the vehicle, ash and hot embers stung her eyes and obscured her vision, she said. She felt around until she reached a fire engine that was hot to the touch. Firefighters pulled her inside, but they, too, were trapped, she said — until a bulldozer came through and cleared a path to safety.
Meanwhile, President Donald Trump has markedly changed his tune from last week, when he tweeted blame at the state of California for the "gross mismanagement of forests" causing the fires, threatening to cut federal aide.
"I just approved an expedited request for a Major Disaster Declaration for the State of California," tweeted Monday morning. "Wanted to respond quickly in order to alleviate some of the incredible suffering going on. I am with you all the way. God Bless all of the victims and families affected."
Some may say better late than never, but try telling that to the thousands of people who have lost everything in the California wildfires, the cause of which is still being investigated.
(Via CNN)