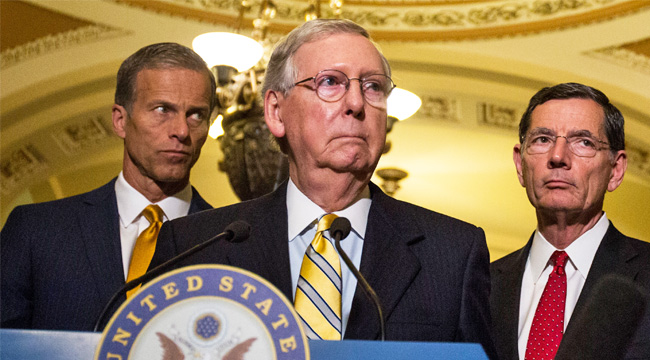 In May, Rep. Paul Ryan was able to push the American Healthcare Act through the House without a CBO score. When that score came out, it didn't paint a pretty picture: the number of people who would be uninsured within a decade was staggering, in the dozens of millions. Sen. Mitch McConnell finally put together the Senate's health care bill and will take it to a vote with a CBO score that doesn't represent much of an improvement.
The bullet points, via NBC News' Brad Jaffy.
The big takeaway in the CBO score is the 22 million people left without insurance within a decade. How will this happen? Via CNN:
Like the House bill, the Senate's version would end enhanced funding for Medicaid expansion, though at a slower pace, while overhauling the entire Medicaid program. It would eliminate the mandates that require nearly all Americans to have coverage and companies with more than 50 workers to provide health benefits. And it would jettison Obamacare's taxes on the wealthy, insurers and others, while allowing insurers to charge more to older policyholders.
The Senate bill keeps Affordable Care Act subsidies in place, but in name only: the legislation does not provide as much funding for those subsidies and makes it harder for older enrollees to receive them.
There are currently five Republican Senators who have said they won't vote for the bill, with many other GOP Senators saying they are undecided. It's anyone's guess whether more of their Republican colleagues join them before a vote that's expected to happen later this week.
Meanwhile, the mainstream media seems to have missed the real important aspect of this bill, according to Fox News.
What effect will decreased tax revenue have on that budget deficit? It's anyone's guess.