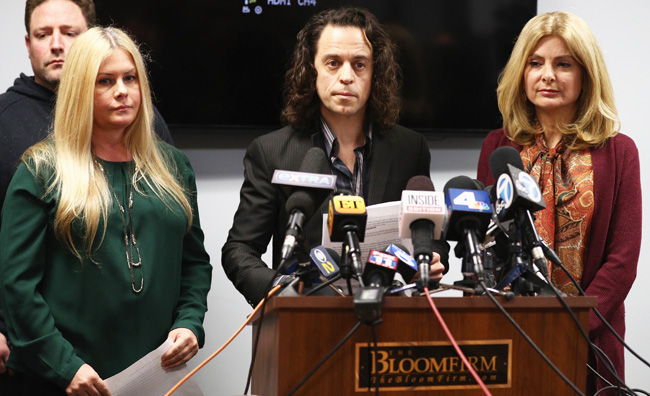 The child molestation allegations against Scott Baio have taken yet another turn. Previously, Baio's Charles in Charge co-star Nicole Eggert accused him of sexually abusing her between the ages of 14 and 17, which he immediately and vehemently denied in a Facebook Live video. Tensions continued to escalate in dueling morning show interviews (Baio on Good Morning America with Eggert on Today), which culminated in Eggert retaining high-profile celebrity attorney Lisa Bloom, and filing a police report against Baio last week.
Alexander Polinsky, the actor who played Eggert's brother on the series, was said to be cooperating, and on Wednesday he appeared alongside Eggert and Bloom in a press conference. Speaking out for the first time, Polinsky likewise claims to have been sexually harassed and assaulted by Baio between the ages of 12 to 15 years old.
"I was so naive, I innocently hopped on his lap expecting to hear a story about Fonzie or Happy Days," said Polinsky of the TV show's mega-star. "Scott was a hero to me. Instead of telling us a story, he threw me off him angrily calling me a f*ggot while Nicole laughed."

According to Polinsky, Baio would describe gay sex acts to Polinsky, share his "sexual conquests with young girls and co-stars" of the show and that homophobic slurs became a "running gag" on set. "Scott pulled down my pants in front of over 100 people," Polinsky said. "Another time, he laughed as he cut a hole in my dressing room and exposed his genitals to me."
In another instance, Polinsky recalled Baio throwing hot tea in his face — referring to his co-star's behavior as "a pattern of abuse that was unrelenting," "mental torture," and "sexual-themed hazing."
During the press conference Bloom also confirmed that she had at least 10 witnesses to corroborate Eggert and Polinsky's accounts, who have all since spoken to police. At least one of those witnesses allegedly even saw Baio dragging Eggert around by her hair.
"Child abuse takes many forms," said Bloom, who added that the LAPD is now taking reports of all sexual assault incidents regardless of when it happened. "For little boys, child abuse can often mean homophobic slurs. Child abuse hurts, it deforms, it teaches children they are trash. Today is about rejecting all of that and it's about standing up against child abuse."
For his part, Baio continues to deny the allegations, and plans on holding his own "press conference" on Facebook Live later on Wednesday.
UPDATE: Baio's press conference included his lawyer Jennifer McGrath and spokesman Brian Glicklich, who said: "Scott denies every single claim of inappropriate behavior. Almost every one of them can be refuted with evidence." He's also threatening to take legal action while fighting the accusations.
(Via Hollywood Reporter)