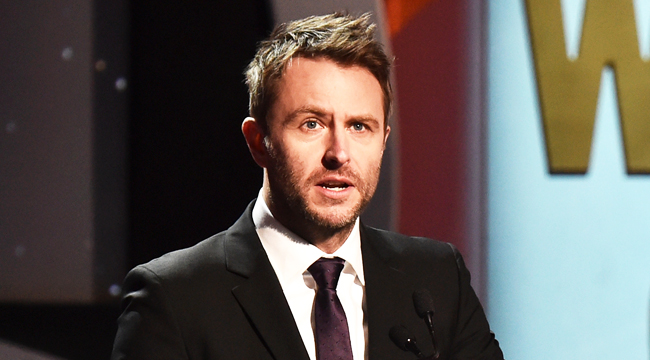 Two weeks ago, Nerdist erased all traces of founder and CEO Chris Hardwick after actress Chloe Dykstra published a Medium post that alleged "long-term" abuse, both emotional and sexual, (along with career blacklisting) against an unnamed ex-boyfriend who she accused of controlling behavior. Due to the specified timing and several other details, many people believed that Hardwick was the ex in question, and his career has taken several hits, including the shelving of his AMC talk show and cancellation of Comic-Con appearances.
Amid these allegations, Hardwick's wife, Lydia Hearst, issued a statement of support for her husband, and over the past week, three of his ex-girlfriends have also come to his defense. All of these women have stressed that their experiences with him were very different than the ones described by Dykstra, and they urged the public not to rush to judgment:
Jacinda Barrett, Real World alum and Bloodline actress, dated Hardwick for four years. She wrote on Instagram that Dykstra's "story bears no resemblance to the one I shared with him all those years ago." Barrett also argued that due process within the #MeToo movement is important and, amid allegations, "every man deserves a voice."
https://www.instagram.com/p/Bkc7SGhnCxM/

Janet Varney, comedian and animation voice actress of The Legend of Korra, spoke with the LA Times about her seven-year relationship with Hardwick. "Over the seven years Chris and I were together, I was never subjected to any kind of sexual abuse or controlling behavior whatsoever," Varney insisted. "Since our breakup in 2011, we have remained friends."
Andrea Savage, who dated Hardwick over a decade ago, told PEOPLE that she feels likewise while calling him kind and supportive of women. "None of this rang true in terms of my experience with him," Savage stated of Dykstra's allegations. "He's truly one of the least controlling people. That's not the Chris I know."
Prior to these women stepping up (and as mentioned above), Lydia Hearst penned an Instagram post, in which she stressed that she wasn't making a "statement in defense," but rather, a "statement of defense" of Hardwick. Hearst firmly believes that there's nothing that Hardwick did that requires defending, and she's coming forward "not out of obligation, but out of necessity to speak the truth about the person I know." You can read her full post below, in which Hearst also describes her husband as nonjudgmental and compassionate.