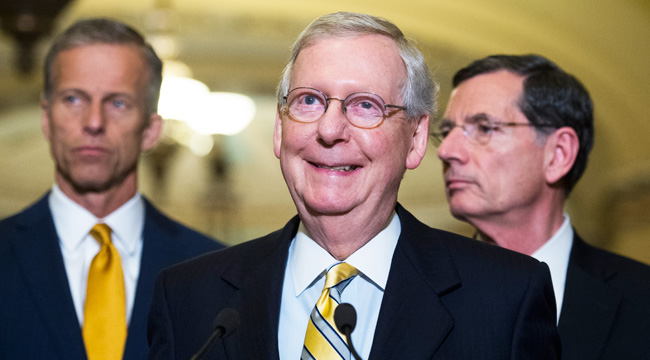 The infighting within the Republican Party is reaching a fever pitch this week. After President Trump and Senator Bob Corker spent a few days publicly insulting each other because Corker, reportedly, aired the concerns many Republicans have privately held, leaders of several conservative groups are now calling for Mitch McConnell to step down as Senate majority leader for failing to implement the conservative legislative agenda he promised:
In a letter to McConnell and in a joint news conference, the activists vented frustration with the Senate's lack of major legislative accomplishments this year, including their failure to undo the Affordable Care Act.

"It is time for you and your leadership team to step aside, for new leadership that is committed to the promises made to the American people," says the letter, which is signed by six activists.
At a press conference, Brent Bozell, the president of Media Research Center, said that if McConnell does not step aside, he and his allies will campaign against McConnell and candidates aligned with him during the 2018 primaries — a tactic that former White House advisor Steve Bannon already put into motion after backing Roy Moore in the Alabama Senate primary:
"If Mitch McConnell does not step down, we foresee a scorched earth disaster from a furious Republican base that will take it out on elected officials in 2018 and again in 2020," Bozell said. "It will begin simply by staying home — and rightfully so."
The letter was signed by Bozell, as well as Senate Conservatives Fund President Ken Cuccinelli II, Tea Party Patriots co-founder Jenny Beth Martin, FreedomWorks president Adam Brandon, For America president David Bozell and Richard Viguerie, the chairman of ConservativeHQ.com.
At the press conference, several of the letter's signatories offered suggestions for different Republican Senators to take McConnell's place as majority leader, but there was not a consensus pick.
"If this was a football team, and you'd lost this many times, you'd start seriously considering firing the coaches," said David Bozell, the president of For America.
(Via Washington Post & Fox News)