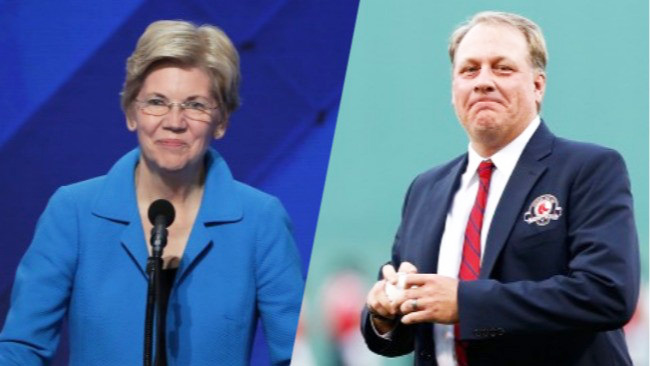 Former Major League Baseball pitcher Curt Schilling is reportedly weighing a challenge to Massachusetts senator Elizabeth Warren when her term ends in 2018. This comes in the wake of a Facebook post where Schilling said that he'd like to launch a presidential bid in eight years, "or four, if by some amazing illegal event this country elects another Clinton."
In a Monday interview with Boston radio station WRKO, Schilling — who won the World Series with the Red Sox in 2004 and 2007 — said that he would like to be "one of the people responsible for getting Elizabeth Warren out of politics." He went on to call the senator a "nightmare" and criticized the American left for treating her as "the second coming of Hillary Clinton."
Even before his retirement from baseball, Schilling was politically outspoken and campaigned for then-president George W. Bush in 2004. During the 2007 primary process, Schilling announced that he would support Arizona senator John McCain, the eventual Republican nominee.
In 2010, Schilling began working for ESPN as a baseball analyst. Last August, he was suspended by the network for the remainder of the season after sharing an image that featured false and inflated statistics relating to Islamist terrorism. This April, EPSN fired Schilling after he shared an anti-transgender image on his Facebook page.
Schilling's interest in Warren's senate seat — and in the presidency — are not wholly unexpected. After the longtime Massachusetts senator Ted Kennedy passed away in the summer of 2009, the pitcher publicly flirted with the idea of running in the special election to replace him, but the Republican Scott Brown would eventually defeat Martha Coakley.
(Via The Hill)