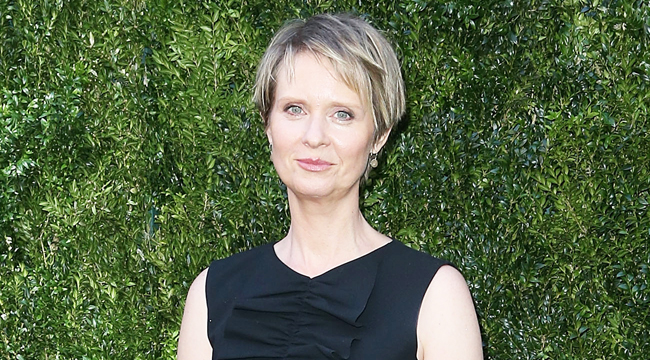 The political ambitions of Sex and the City actress Cynthia Nixon have been the subject of months of speculation due to reports that she's pondering a Democratic primary challenge against incumbent New York Governor Andrew Cuomo. Nixon recently confirmed that she was listening to people who encouraged her to run, and yes, she was considering doing so. Given that the primary election will occur in September, the clock is ticking for a decision, and now, Nixon has grown even closer to an announcement.
Spectrum News/NY1 reports that Nixon has been quietly piecing together a staff for a "competitive campaign" against Cuomo. She's said to have hired two political strategists from NYC Mayor Bill de Blasio's first mayoral campaign, which indicates that Nixon means business:
NY1 has learned that Nixon has begun the process of assembling staff to lay the groundwork for a competitive campaign. Sources say Rebecca Katz and Bill Hyers, two veterans of mayor Bill de Blasio's first campaign for mayor, are expected to play a major role.

Nixon hasn't officially declared her candidacy, and a spokesperson claims a final decision has not yet been made.
The New York Daily News goes further while declaring that Nixon is "poised" for an imminent announcement. The outlet adds that she's also consulted with leaders of both the minor Working Families Party and the Alliance for Quality Education's Billy Easton, although it's not clear whether she wishes to poach anyone for her campaign or is simply putting out feelers to see if they'll support her prospective bid. For now, Nixon's publicist has downplayed reports while still hinting at an impending move:
"Many concerned New Yorkers have been encouraging Cynthia to run for office, and as she has said previously, she will continue to explore it. If and when such a decision is made, Cynthia will be sure to make her plans public."
Nixon has long been outspoken in her Democratic activism, but she's ratcheted up her visibility of late. Recently, she delivered a speech that called for "better Democrats" to run for office while criticizing New York leaders for not being "blue enough." Many interpreted this as a direct shot at Governor Cuomo, but whether or not Nixon believes that she's a better Democrat for office, we'll probably find out soon.
(Via Spectrum News/NY1 & New York Daily News)