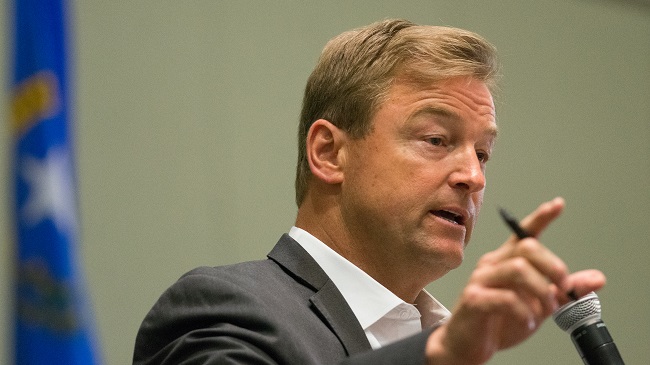 With Sen. John McCain's (R-Arizona) surgery postponing the Senate's vote to repeal and replace Obamacare for a few weeks, Majority Leader Mitch McConnell and his colleagues have their work cut out for them. For despite the efforts of most Republican congresspeople, not everyone in the party is on board with the American Health Care Act as-is — especially Sen. Dean Heller (R-Nevada). A vocal critic of the Senate's ACHA rewrite — which, he argues, "they haven't changed" at all — Heller was targeted by a Donald Trump-friendly Super PAC back in June. On Sunday, someone broke into his office and left a "threatening note."
According to the Las Vegas Sun, police were dispatched to the senator's local office at around 9am local time on Sunday. Lt. Patricia Spencer confirmed with reporters that an "entry did occur" at the location that morning, but aside from noting the investigation was ongoing, refused to offer any details. As Fox News notes, however, sources with local CBS affiliate KLAS-TV indicate the reported burglary may have have been something more. That's because whoever broke into Heller's office apparently left a "threatening note" addressed to the senator.
Neither the Las Vegas Police nor Heller's office would provide KLAS-TV with any comments regarding the supposed note or its contents. Considering his politically fraught time in the national spotlight, and his stance against the Trump White House and the GOP's congressional efforts to repeal and replace Obamacare, however, the burglary's timing is suspect.
(Via Las Vegas Sun, Fox News and KLAS-TV)