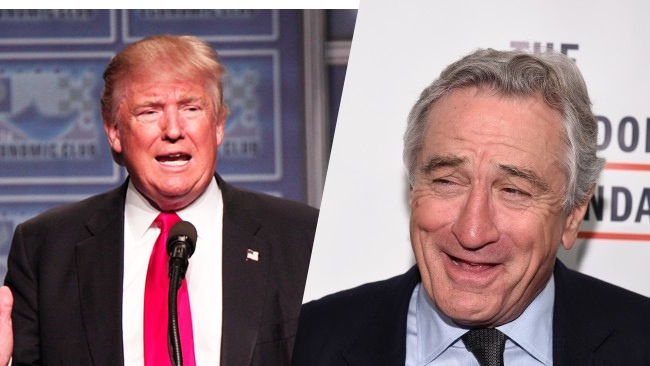 Donald Trump has had his fair share of "celebrity" endorsements, but a number of tinsel town stars have questioned his presidential credentials. The latest celebrity to call out Trump's rhetoric is Travis Bickle himself Robert De Niro.
At a 40th anniversary screening of Taxi Driver in Sarajevo, some members of the media asked him his thoughts on the Republican presidential nominee. De Niro was pretty blunt calling Trump "totally nuts" and questioned how someone like him got into this situation:
"I don't know, it's crazy that people like Donald Trump …, he shouldn't even be where he is, so God help us. What he's been saying is really totally crazy, ridiculous … he is totally nuts."
But De Niro said the media is doing their part, as they have questioned some of the things he has been saying as of late. On Thursday, Trump made headlines – as he usually does – when he claimed that President Obama was the founder of ISIS. Many in the media believed he meant Obama led to the creation of ISIS through his decisions, but Trump doubled down and stood by his original statement, even after he was given an out. Trump blew off the situation saying that the media doesn't get sarcasm. De Niro said he is glad the media is finally calling him out for stuff like this:
"But I think now they are really starting to push back, the media … finally they are starting to say: Come on Donald, this is ridiculous, this is nuts, this is insane."
De Niro's praise of the press is pretty spot on as the media is questioning his sound bites. But maybe someday a real rain will come and wash all this crazy rhetoric off the street.
(Via Reuters)