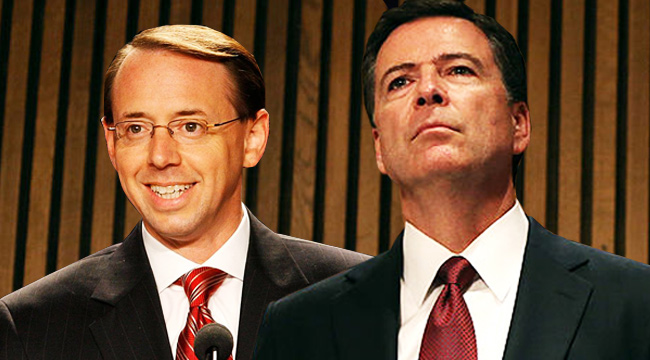 When President Trump fired FBI Director James Comey, the White House's announcement stated that Trump "acted based on the clear recommendations of both Deputy Attorney General Rod Rosenstein and Attorney General Jeff Sessions." Rosenstein's name came first, of course, because Sessions has (theoretically, at least) recused himself from anything related to the Russia investigations. And although the official reason for Comey's canning was that Rosenstein couldn't abide by Comey's handling of the Clinton email probe, it's fairly obvious that Trump is acting out of frustration over Russia. So, Sessions has been minimized here. As a result, Rosenstein took the public fall for the move, and he didn't appreciate it.
The Washington Post paints a telling portrait of Trump's accelerating panic over what he perceived as Comey's absence of loyalty and "lack of action" on those Russia leaks. Trump grumbled and stewed all last weekend (while playing golf in New Jersey!). He felt that Comey was "using the Russia probe to become a martyr," and he was impatient over not being able to control the narrative, so Comey needed to go, now. Rosenstein ended up threatening to resign over the fallout, which came very suddenly after Trump — on Monday — summoned both Rosenstein and Sessions to the White House and told them to find a reason to fire Comey on Tuesday:
[In] the meeting, several White House officials said Trump gave Sessions and Rosenstein a directive: to explain in writing the case against Comey. The pair quickly fulfilled the boss's orders, and the next day Trump fired Comey — a breathtaking move that thrust a White House already accustomed to chaos into a new level of tumult, one that has legal as well as political consequences.

Rosenstein threatened to resign after the narrative emerging from the White House on Tuesday evening cast him as a prime mover of the decision to fire Comey and that the president acted only on his recommendation, said the person close to the White House, who spoke on the condition of anonymity because of the sensitivity of the matter.
One can understand Rosenstein's position to a degree. He's fresh on the job after Trump fired Deputy Attorney General Sally Yates for refusing to enforce his Muslim ban. The FBI sounds like a miserable workplace environment right now, and a lot of anger is being thrown his way because — fair or not — his recommendations were being used to justify Comey's surprise departure.
On Wednesday, Trump broke his silence to simply say that Comey "wasn't doing a good job," but the real story might be that Comey asked for more resources (money and staff) to finish the FBI's Russia investigation. Yep, this mess is almost all about Trump's Russia-related rage, and as a result, firing Comey is arguably the most controversial move that this president has made (which is saying a lot). It may be a pivotal one.
By the way, the New York Times Editorial Board has published a powerful letter that makes the case for Rosenstein — who is currently holding more control over the Russia investigation more than anyone else — to appoint an independent prosecutor to finish the job. The letter does sympathize with Rosenstein but argues that he's now "deeply implicated" in Trump's decision to fire Comey, and Trump has therefore "exploited the integrity you have earned over nearly three decades in public service." Not only that, but Rosenstein's memo has compromised his ability to lead a Russia probe, so he must effectively recuse himself. The full letter is worth a read.
(Via Washington Post & New York Times)