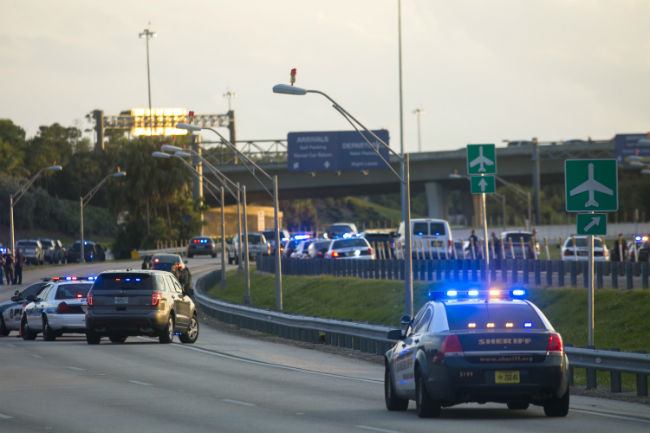 New details surrounding the Fort Lauderdale-Hollywood International Airport shooting are starting to emerge, concerning the motivations of the gunman. Fox News is reporting Estaban Santiago, the alleged shooter, had visited an FBI field office in Anchorage, Alaska telling officials he was being forced to watch ISIS videos.
On Friday afternoon, it was reported Santiago had entered the airport and began to open fire. It was later confirmed that five people were killed during his attack, with several more being taken to the hospital. Many airport goers ran for cover during the attack, creating mass hysteria, which some were comparing to a "war zone." Some flyers were evacuated to the airport tarmac, while some were told they had to remain on their planes.
After the shooting, Santiago was apprehended by police and booked overnight. The Broward County Sheriff's Office, as reported by ABC News, noted Santiago is being held on murder charges. Details concerning Santiago's identity and motivation were scarce at first, only that it was confirmed the 26-year-old was an Iraq war veteran. But Fox News reported he had visited an FBI field office in November for saying he was being forced to watch ISIS videos. Authorities said his actions during the time were questionable:
"During the interview, Santiago appeared agitated and incoherent, and made disjointed statements. Although Santiago stated that he did not wish to harm anyone, as a result of his erratic behavior, interviewing agents contacted local authorities who took custody of Santiago and transported him to a local medical facility for evaluation. The FBI closed its assessment of Santiago after conducting database reviews, interagency checks, and interviews of his family members."
This led authorities to believe Santiago was suffering from a mental health disorder. FBI officials notified local authorities of the situation, who then took Santiago to a local hospital for a welfare check. But the story continues, as the FBI opened an investigation about him after the November meeting, interviewing friends, relatives and checking databases, but they did not find any connection to terrorist organizations.
But Santiago has had a criminal record. In 2016, he had been charged with fourth-degree assault and property damage in Anchorage, which were later dismissed. Fox News reported he had also been involved in a domestic violence case.